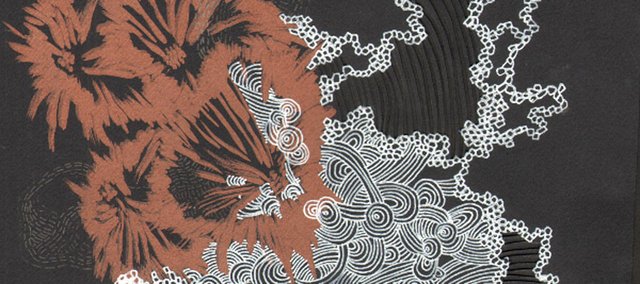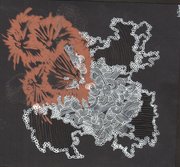 Past Event
Friday, July 29, 2011, 5 p.m. to 8 p.m.
ACME T-Shirt Shop, 847 Massachusetts Street, Lawrence
All ages
After several years of near-constant activity in the local arts scene, Lawrence artist Alicia Kelly is packing her bags and heading west. But before she leaves, Kelly will display her work in one final exhibition, "Today Smells Like Today," at the ACME T-Shirt Shop, 847 Mass.
"With Today Smells Like Today," Kelly will showcase her tasteful color schemes and elegant, meandering line work with seven new pieces, including "Arriving in Two Places." ACME will also be selling two new T-shirts designed by Kelly.
Kelly has been selling her T-shirts for about a year at downtown retailers Arizona Trading Company, 736 Mass., MissFortune's Creation Station, 726 Mass., and Third Planet Imports, 846 Mass., though she says creating designs for shirts is something she is still learning how to do.
In addition to her new works and T-shirts, Kelly will be showing several selections from the body of work she's accumulated over her years in Lawrence, much of which she hopes to sell in order to lighten her load before her move to Portland, Ore., at the end of August, where she plans to continue to pursue screen-printing.
"It's like a liquidation sale," Kelly says.