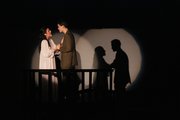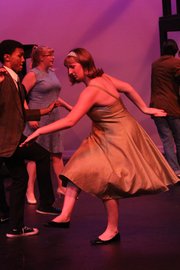 It's the end of an era for three teenagers who are performing in the Summer Youth Theater's production of "West Side Story" at the Lawrence Arts Center, 940 N.H. The three: Hannah Foerschler, Jacob Leet, and Eric Palmquist, have worked together at SYT productions for years, but now that they have graduated from high school, they must say goodbye to the theater company.
"I've been doing this since I was in kindergarten," says Foerschler, who plays Riff's girlfriend, Velma, in the most recent production. "My first play was 'The Great Alphabet Mystery,' " she says. "I played the letter 'L' in the word 'Milk'!"
She's come a long way.
"Hannah is one of those truly amazing 'good kids' who does everything expected and then more — AND is nice to everyone at the same time," says SYT director Ric Averill, who adds that she shines as one of the jet girls.
A few weeks from now the Free State graduate will be leaving Lawrence to study music at Kenyon College in Ohio. "It's going to be difficult coming home next summer and finding that I'm not doing theater."
Another seasoned SYT performer, Eric Palmquist, who plays Bernardo in "West Side Story," remembers the first time he stepped onto the SYT stage. He was 10 years old and was auditioning for Peter Pan.
"I was so nervous. I remember walking on stage and speaking under the bright lights in front of strangers. It was a visceral, gut-twisting experience ... and I was so happy!"
He has not missed an SYT performance since.
"Eric used to be such a boy's boy — playing intently, acting with vigor, always loud, always strong..." says Averill. "It was clear from an early age that he could play character and older roles, wise and aged beyond his years..."
"My parents came to accept that this is how I was spending my summer!" Palmquist, who will attend Iowa University next fall to study theater, and hopes he can return to Lawrence and work as an intern for Averill next summer.
Also hoping for an SYT internship next summer is Jacob Leet, who is headed off to Ottawa University to study music. Leet plays Tony in the weekend production.
Leet recalls an early SYT experience as a cast member of "My Fair Lady." "I felt really lucky to be with all these older kids. It was cool to be fresh out of eighth grade and to make friends with kids going off to college," he says. "They seemed so old!"
Averill also remembers that production of "My Fair Lady", because it was the first time he took note of Leet's talent. "I knew he could act prior to that production ... but when I heard (him) as the tenor in the quartet, and when he sang, the whole audience got very quiet and listened with rapt attention. I knew then that we would see more of Jake and soon in some leading roles."
"My Fair Lady" was also the show where Eric and Jake first became friends. "We really hit it off," says Jake, adding that he always looked forward to summers with SYT. "I never went into it thinking, 'Oh, I'm going to do Romeo and Juliet, or whatever.' Instead I'm thinking, 'I get to do SYT. I am going to go back and see all those people again.' "
There's a strength to the relationships that develop during SYT productions. "They're really intense because you spend all this time together," says Hannah.
"The people who do SYT shows seem to be more serious about acting than the people who try out for high school shows," says Jake.
Palmquist has been serious about his craft. He appreciates not only the friendships he has formed at SYT, but what he has learned from Averill: "It's interesting to watch how he is able to work with younger actors, teaching them how to behave on stage, and then turn around and give notes and direction to the adults."
"I'm really glad to have had a director I've grown up with," Palmquist says. "Hopefully he's watched me mature as a person and as an actor."
Last week the cast did their first full run through. "I felt like it was the first day of the end," Leet says. "It's going to be hard to leave something like SYT."
While Eric says that he doesn't want to think about "West Side Story" as his SYT swan song, he says he feels it "lurking" in his mind.
"I will miss the people," Foerschler says, "especially Eric and Jacob. We have been good friends for a long time."
Summer Youth Theater staff will also miss them.
"I love watching young actors grow from their initial fascination with being onstage to the point where they are clearing embodying a character and creating theater in the most professional way possible," says Averill. "I consider myself very lucky to have worked with these students the past few years."