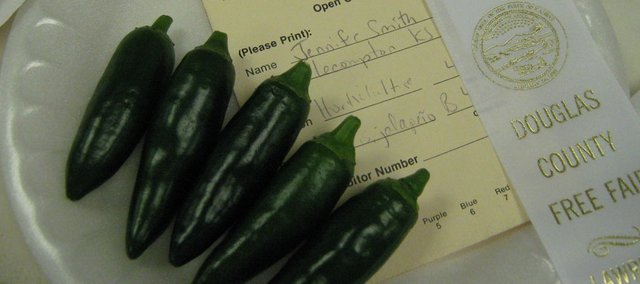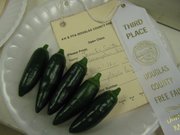 I am pretty sure I grow the best jalapenos in Douglas County. Tomorrow I will prove it by entering my peppers in the open class horticulture exhibit at the Douglas County Free Fair.
If friendly competition with fellow gardeners sparks your interest at all, join me. Jalapenos, along with other peppers, tomatoes, cucumbers, melons, squash and any other vegetables you can think of may be entered in the competition. There is also a division for fruit, including apples, pears, peaches, grapes, etc. Fruit and vegetable entries are accepted from 4 p.m.-7 p.m. Monday in Building 21 on the Douglas County 4-H Fairgrounds.
For first-time competitors, there are a few rules you should know. First, your fruits and veggies must be displayed on plain white paper plates. Second, some fruits and vegetables require more than one specimen for the competition. This indicates that I can consistently grow good peppers rather than just one exceptionally nice pepper.
The number of fruits or vegetables needed is dependent on size. For large vegetables like melons and squash, you only need one specimen. For medium-sized fruits and veggies like apples, peppers, onions and tomatoes (including cherry), bring five of the fruit or vegetable. For small items like green beans or blackberries, bring 12. Plums are a strange exception, requiring 10 specimens.
When picking out multiples of the same fruit or vegetable, consistency is key. My five jalapenos will be as close as possible in size, shape and color.
Did I mention cash prizes? The top three winners in each class receive money, a commemorative ribbon and bragging rights. The cash is not a good get-rich-quick scheme, but the $3 dollars you get for a first place entry make it worth driving out here. (And you can win multiple classes!)
There are also classes for herbs within the horticulture division — just a single stem of the herb is needed for entry.
Open-class horticulture exhibits are judged Tuesday morning and will be on display to the public Wednesday-Saturday. Buildings are open from 10 a.m.-10 p.m. each day.
What if you are a better flower gardener than fruit or vegetable grower? There's a flower competition, too! Flower entries are accepted from 8 a.m.-11 a.m. Tuesday in Building 1 on the Douglas County 4-H Fairgrounds.
Flowers also need certain quantities dependent on the type of flower. For marigolds and zinnias under 4 inches in diameter, three stems are needed for entry. For all other flowers, including zinnias over 4 inches in diameter, only one stem or spray is needed.
Cut flower should be displayed in "clear containers sized in proportion to the specimen." Most exhibitors use clear plastic water bottles with the labels removed.
There are also flower arrangement divisions with specific themes.
For non-gardeners, there are categories for arts, foods and other things. Check the Douglas County Fair website (www.dgcountyfair.com) or stop by the Douglas County Extension office for more details.  
The only things that can stop me from being the Douglas County Jalapeno Champion are weather, insects, plant diseases, natural disasters and you.
—Jennifer Smith is the Horticulture Extension Agent for K-State Research and Extension. Contact her or an Extension Master Gardener with your gardening questions at 843-7058 or dgemg@sunflower.com.