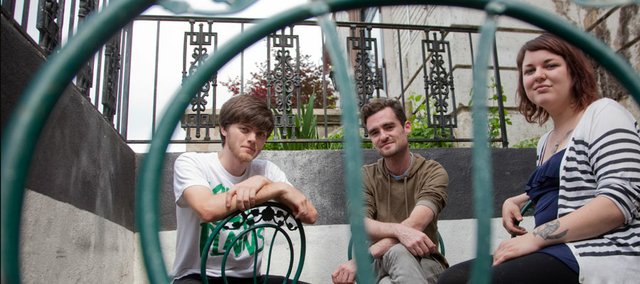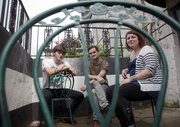 Audio clip
"Reprise" by Hospital Ships
Stream the whole album
Listen to Hospital Ships' new album "Lonely Twin" in its entirety on Spinner.
Jordan Geiger admits he has a problem. It's an addiction that, if left unchecked, leaves him squirming, unable to find release even in dreams. The former member of bands Minus Story, Shearwater and The Appleseed Cast says he's only really comfortable in one situation.
"Recording is my favorite thing in the whole world," Geiger says. "So every part of the process is the best for me. Spending a day in the studio, even if I don't do anything, is like the only time I can sleep soundly. I feel like life makes sense to me when recording."
Geiger, the writer, lyricist, singer and overall front man of the Lawrence-based alt-pop group Hospital Ships, will be releasing the band's second album, "Lonely Twin," on June 7 through recording label Graveface.
The album will feature 11 tracks of what feel, by-and-large, like a sonically fuzzy warm blanket on a winter's night. Geiger's high, understated vocals move over oftentimes-sparse instrumental arrangements, evoking a sense of simple beauty, surging to complex heights at turns. On tracks like "Carry On" and "New Life" there is a sense of impermanence in the lyrics, but also a quiet acceptance of the inevitable.
Geiger says the lyrics for his songs come from life experiences and his reactions to those events. The Missouri native also has a deep, romanticized attachment to the sea.
"A lot of my songs come from really personal things," he says, "like on 'Little Dead Leaf,' it's literally about a dream I had that sort of haunted me over the years. The nautical thing is kind of, well, I'd never seen the ocean until I was 23 or 24. The first time I ever swam in the ocean was last year, so it's always been kind of a mythical place for me. 'Moby Dick' is, of course, awesome, and being in a band is kind of like being on a ship with a bunch of dudes at sea."
Geiger says he began recording "Lonely Twin" in January of 2009. The recording process has spanned multiple studios, multiple groups of musicians and multiple states, with work taking place in Columbia Mo., and Austin and Dallas Texas, as well as Geiger's home.
"My friend John Congleton has a really awesome studio and is a well-renowned studio engineer. He would say he had a spare day and I would basically get a band together and drive down to Dallas and record three songs in a day. Most of the time, the band didn't even know the songs."
Despite the long, cramped hours driving across state lines in a van or the on-again, off-again recording schedule, Geiger says he has no regrets about the recording process.
"There's no bad part," he says. "It exhausts me because it's so intense. (In the studio,) I can't listen to music for such a long time. My ears — I don't think people realize how much ear fatigue can f--- you up. I love it, though. Everything about recording, I love. This is the first time I've really taken my time and done a really hi-fi studio album. I really tried to put together a collection of songs that would be worth waiting for and doing videos and hiring a publicist. When I do demos, I always imagine how it will be at the end, and, you know, really spending the money. Going to a real studio with real equipment is a very fulfilling thing."
Geiger says the album's track listing was a subject of "huge debate among me and my cohorts," and that he ended up arranging it in a manner that rewards persistent listeners.
"There's something about the second half of a record," he says, "that you're already that far into it – that if you've listened that far, then the artist can stretch out. I always put my favorite stuff on the end because it's kind of a badass thing to do. I wouldn't like a record that kinda peters out."
The album has already received airtime from some prestigious media outlets. On May 6 the track "Honey Please" was featured as NPR Music's Song of the Day and Stereogum.com recently named Hospital Ships a "Band to Watch," based off of the upbeat track "Reprise."
"The writer that put us on the best new music thing (NPR) was just a freelance writer who got the record and dug it," Geiger says. "I think he was into it that we were from Lawrence. I feel like everybody in the country knows Lawrence.