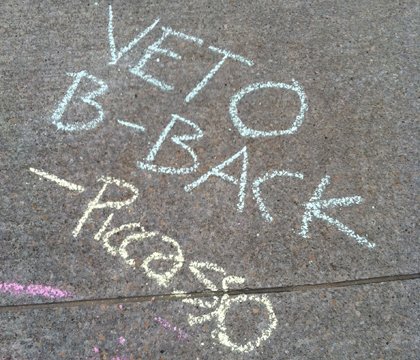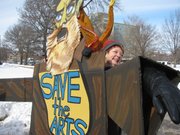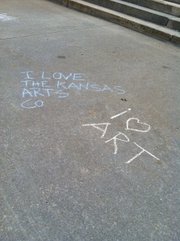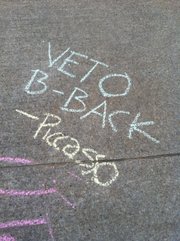 Upcoming/Ongoing arts events
"What Float's Your Boat" fundraiser
When: 6 p.m. to 11 p.m., June 18
Where: Clinton Lake Marina
What: Summer barbecue, live art auction and fundraiser. Food from McGonigle's BBQ, beer from 23rd St. Brewery and music from Groove Agency will be provided.
Tickets: $60 ticket price. To order, or for more information, visit www.van-go.org.
Art for Governor Brownback
When: Ongoing
What: Supporters of the Kansas Arts Commission are encouraged to sent art to the governor's residence.
For more information: Find Art for Governor Brownback on Facebook.
By the numbers
This fiscal year, the Kansas Arts Commission is supporting 16 different Lawrence artists and art groups through 27 separate grants. Here's a breakdown of where that $121,957 has gone.
Americana Music Academy — $3,862
Baldwin City Community Theater — $2,207
Baldwin Community Arts Council — $1,696
Downtown Lawrence Inc. — $2,000
Francisca Maria Velasco — $5,000
Friends of the Theatre (KU Endowment) — $2,742
Lawrence Art Guild Association — $3,421
Lawrence Arts Center — $16,766
Lawrence Chamber Orchestra — $1,777
Lawrence Children's Choir — $14,286
Lawrence Community Theatre (Theatre Lawrence) — $13,126
Lucia Orth — $1,927
Mari LaCure — $289
The Lied Center — $16,286
Spencer Museum of Art — $21,286
Van Go Mobile Arts — $15,286
Total 2011 fiscal budget for Kansas — 14 billion; funds appropriated for the KAC — $798,000 (.006 percent of the total budget)
Total 2012 Fiscal Budget for Kansas –– $13.8 billion; funds appropriated for the KAC — $689,000 (.005 percent of the total budget)
With one stroke of a pen, Gov. Sam Brownback ruined Mary Doveton's holiday weekend.
"I think we were all holding out until the last ray of hope ..." said the Theatre Lawrence leader, letting her voice trail off.
As it stands, starting July 1, the only extra dollars going into the coffers of Kansas arts organizations like Theatre Lawrence will come from private donors.
Next month, Kansas arts organizations will have no direct access to government funding — state, regional or national. For Lawrence, that means a certain loss of at least $121,957 from the state. That's the amount city organizations and artists received in 2010 from the Kansas Arts Commission.
In January, Brownback indicated he wanted to privatize the KAC and eliminate state funding for the organization, which supplies grants and other funds statewide. The move was designed to save a total of $689,000 from the $13.8 billion state budget.
However, taking away state funding to the KAC also eliminates roughly $1.2 million in federal funding because both the National Endowment of the Arts and the Mid-America Arts Alliance can only deliver money to state-funded programs. As a result, any privatized arts entity would have to compete with its own grantees for money.
Though Kansans fought back, encouraging legislators to leave the KAC in the state's 2012 fiscal budget, the governor used his line-item veto power to eliminate it from the budget Saturday morning.
"I know I've had a number of questions about how the funding cuts will affect the theater. Up until this weekend, I would tell them I'd hope that it wouldn't happen," said Doveton, who is now officially facing a $13,000 hole for fiscal year 2012. "I had the good fortune of being present when the Senate was voting on it. And I got to hear what some of the senators were saying about the arts — both the people who were voting in favor of restoring funding and those who were voting against it.
"I really thought after that huge outpouring that the governor might reconsider."
"Trend-setting" changes
He didn't.
In fact, Doveton said Brownback wasn't present at all for the funding discussion for the KAC.
The Brownback camp promises to personally help raise money for the privatized council, and while many defended the KAC as an entity to help attract federal arts funding, Brownback said federal funding of the arts was going to decrease because of budget pressures and the national deficit.
"While we may be a trendsetter now in the area, I think you are going to see a number of states pursue this same avenue that we are doing in the state of Kansas," he said.
Despite that assurance of personal aid, local arts organizations have been shoring up their defenses — both before and after the final elimination of the KAC. Doveton, along with Lynne Green of Van Go Mobile Arts and Janeal Krehbiel of the Lawrence Children's Choir, all say they have upcoming financial planning meetings on the schedule to hammer out how to make up the shortfall. All say they do not want to raise tuition, though they are looking at losing federal money, too. It is unclear as to whether anyone in Washington, D.C., will address the possibility of using NEA money to directly fund a private state arts organization that doesn't have its own government's backing.
"I think most of all the arts organizations in Lawrence are all in the same boat. We're all kind of exploring and obviously looking for donations, looking for underwriters, looking for sponsors, looking at grant possibilities," Doveton said. "I think we're all looking at those options and exploring and pushing them before we say, 'Look guys, we've got to raise prices.' Because, I think that's the last thing that any of us want to do."
Vermont's rebuttal
On May 25, the Wednesday before Brownback's decision, Alexander Aldrich, executive director of the Vermont Arts Council, wrote an open letter to the governor. In it, he dismisses Brownback's claims that a privatized version of the KAC would thrive — an assumption the governor had mentioned came from Aldrich's VAC. Though a nonprofit organization, the VAC receives about $500,000 a year in state funds.
"First, in Vermont our nonprofit state arts agency is effective only BECAUSE there is significant state investment in our work," Aldrich wrote. "Without a state appropriation of just over $500,000 we would be unable to provide the professional development services, educational outreach to underserved communities, accessibility services to hundreds of historic cultural venues that were built long before the passage of the ADA, and a host of other grants that support our creative sector."
Aldrich also pointed out what many of the governor's critics already have argued: Without funding, the state will not only lose out on those federal funds, but also the economic benefits derived from a thriving arts scene. An arts scene that employs local workers and encourages spending not only on the arts themselves (tickets, works, lessons), but also on the accompaniments of a good time — a dinner out before a show, dessert or drinks afterward.
"Our sector provides good jobs. It adds enormous social and civic value to our communities," wrote Aldrich, who estimated Vermont's return of investment from the arts is a whopping 775 percent. "It improves the relationship that young people have with their schools and communities. And it serves as a powerful attraction to entrepreneurs seeking to locate their new businesses in a creative, vital community setting. The 'creative economy' is real, and it is thriving here in Vermont. I believe that all these arguments are relevant to making the case for keeping the Kansas Arts Commission on sound financial, PUBLIC footing."
Aldrich and Kansas arts supporters aren't going to get that wish anytime soon, it seems. On Wednesday, the Kansas House failed to override the veto in the last legislative session of 2011. The override won the simple majority of the votes 50-44, but it would have needed two-thirds majority to succeed.
"This veto makes Kansas the laughingstock of the nation," said Rep. Ann Mah, D-Topeka.
Indeed, neighbors in the arts community — though not yet fearful of a similar move by their states despite Brownback's insistence on Kansas being a "trendsetter" — are wondering what's really happening in the country's heart.
"I've had phone calls from some my colleagues, and once again, to a certain extent, it's 'What's the matter with Kansas?' that they would even consider something like that," said Tim Van Leer, executive director of the Lied Center, which will lose direct funding for the programs it provides to Lawrence-area school children. "Especially, with the amount of money that's being impacted and the impact that that money has. That's the really incredible thing — that the governor believes that a private foundation can make the arts flourish in Kansas, when there is an organization that already helps the arts flourish in Kansas. And so, it's like falling backwards and starting all over again."
— Statehouse reporter Scott Rothschild contributed to this report.