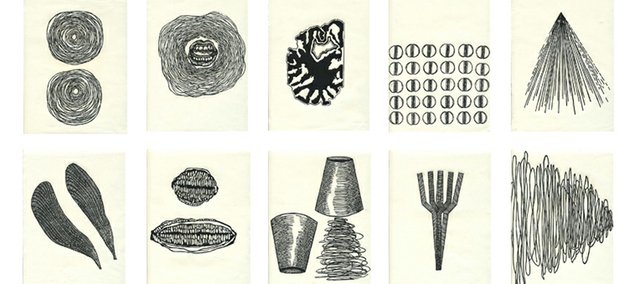 Nicolette Ross, printmaking artist-in-residence at the Lawrence Arts Center, will be opening a showing of her work, entitled "If You Say So" at the center June 10.
The opening reception runs from 7 p.m. to 9 p.m. At 7 p.m. The following Thursday, June 16, Ross will be giving an artist talk and possibly a demonstration regarding the art of printmaking.
We caught up with Ross, who will be teaching at the center through July, and asked her about the work she'll be showcasing and what role Lawrence played in her work.
Sarah Henning: Can you tell me about your work you've done during your year as a resident?
Nicolette Ross: I've been here since August as the printmaking resident. And I've been working on not necessarily prints, but MDS carving. Each carving is drawn on the block and then carved out with hand-gouges and then inked in black ink and then dried. Those panels are hung as objects.
SH: What's different about the set of works you've been able to do since you've been here?
NR: It's a continuation from another body of work that deals with communication between the body and environment. And it's also compliant with my own afflictions with anxiety and other things. I did a series of work called "Yak, Yak, Yak" and it's similar in form, where I had basically singular images on each panel and I did show the panels as objects. So, this show is a little different in that all of the panels are different sizes, some are inked black with white-lined drawings on them, but it is a continuation of this investigation into the ideas, basically.
SH: How's that (investigation) grown since you've been in Lawrence? Did any of the images change or surprise you in any way?
NR: You know, not really (laughs). I'm still using my old process of just basically having a visual vocabulary of images that can be put together to form a singular dialogue or continuous dialogue. And being in Lawrence, I obviously have had some influence on my work, just living here, my environment has changed, so, obviously, everything has changed about my thoughts. But looking at the work, you wouldn't see much of a difference. But environment is definitely a factor.