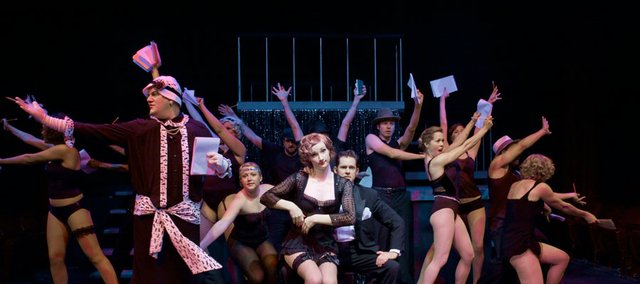 Showtimes
Theatre Lawrence, 1501 New Hampshire
For ticket information call 785-843-SHOW or visit www.theatrelawrence.com
June 10 – 7:30 p.m. with reception to follow catered by Pachamama's
June 11 – 7:30 p.m.
June 12 – 2:30 p.m. matinee
June 16 – 7:30 p.m.
June 17 – 7:30 p.m.
June 18 – 7:30 p.m.
June 19 – 2:30 -p.m. matinee
June 23 – 7:30 p.m.
June 25 – 7:30 p.m.
June 26 – 2:30 p.m. matinee
Directed by Mary Doveton
Assistant direction by Kenna Frankenfield
Musical direction by Mary Baker
Choreography by Barb Wasson
Costume design by Eleanor Patton
Set design by Jack Riegle
Lighting design by Ron Chinn
After six years of petitioning for the production rights to the musical "Chicago," Theatre Lawrence, 1501 New Hampshire, finally received the green light. Directed by Mary Doveton, with musical direction by Mary Baker, the musical opens on June 10 at 7:30 p.m. at Theatre Lawrence with an opening night reception to follow catered by Pachamama's.
"The show has been running on Broadway for about 14 years and there have been touring companies all across the country," says Mary Doveton, who is also the executive director of Theatre Lawrence. "When that sort of thing happens, they don't allow local theaters to do the shows. We're kind of at the bottom of the food chain," she explains.
The musical was inspired by both newspaper articles and the stage play, written by one of the first female crime reporters in Chicago during the 1920s for The Chicago Tribune. The reporter, Maurine Watkins, followed the trials of several murderesses who later came to inspire Watkins' Roxie and Velma characters in her stage play. That play later became the basis for the musical production. "It's a fascinating history," says Doveton, who is well versed in the history of the musical.
Though each production contains many similarities, the musical is quite different from both the stage play and the film, which was released in 2002. "The movie is more realistic," explains Doveton, "the musical is a lot more pared down. It's got that (Bob) Fosse edge to it," she says.
That Fosse edge has been tweaked and manipulated for Theatre Lawrence by choreographer Barb Wasson, who says this particular piece has posed a specific challenge. "This production has been interesting because people know it so well, and most of the actors are very familiar with the Fosse choreography," says Wasson. "I've tried to straddle the expectations of the audience with my own desire to create new choreography for the numbers that is appropriate for the size of the theatre. I hope I've accomplished that."
In addition to choreographing the musical, Wasson held two free "Fosse for Fun" workshops in advance of the production auditions. "I was hopeful that people who were interested in auditioning would come and get a feel for his style, which is very specific, with very isolated movements — the wiggle of a finger, the turn of the head, the isolation of the hips. He's got a very light touch in his choreography." The response was very pleasing. Wasson even welcomed a teacher from Topeka who brought her students to both workshops. In total, she had about 17 students per session.
In general, the cast and crew have been hard at work to perfect their production. "We have an amazing cast," says Doveton. With a combination of new and veteran actors, the players have arrived from various locations including Ottawa, Baldwin, Topeka and as far as Stillwater, Okla. "The actors have been so dedicated. The amount of dance and music involved in the show is just huge," says Doveton.
The actor who traveled from Stillwater is Amber Dickinson, who plays Velma. Dickinson, a former resident of Lawrence, returned to her home state of Oklahoma to teach political science at Oklahoma State University. However, while living in Lawrence, she found it was more difficult than she had expected to meet new people. "I was having a hard time making friends. Theatre Lawrence had auditions and I thought it would be a great way to get involved. I ended up getting a part and it was like the miracle cure for meeting people," says Dickinson, who says she will remain lifelong friends with those she has met through work at the theatre.
When Dickinson heard of the auditions for "Chicago," she made the trip. "I had to duke it out for the part just like everybody else. This [part] has been really nice, because I traditionally play an ingénue. It's been nice to play the bad guy." 
Dickinson too is quick to point out the differences between the musical production and the film. "The storyline is very similar, but there are lots of songs not included in the movie." One major attraction predicted by Doveton and Dickinson is the costume design for their production. "Our costume designer, Eleanor Patton is amazing," says Dickinson.
For those who have seen the film, Dickinson urges the public to take a second look. In addition to the longer song list, Dickinson explains that there's a special reveal as well. "We have a really great take on the Mary Sunshine character. I don't want to give it away. You've got to come see it. It's really incredible."
Beyond directing this production, Doveton has been busy working on the theatre's capital campaign. "We're making progress," she says. "We still need to get to our goal of 6.2 million by Sept. of this year. We're up to about 4.6 right now, so we've raised an incredible amount of money. That's a lot of money in this town."