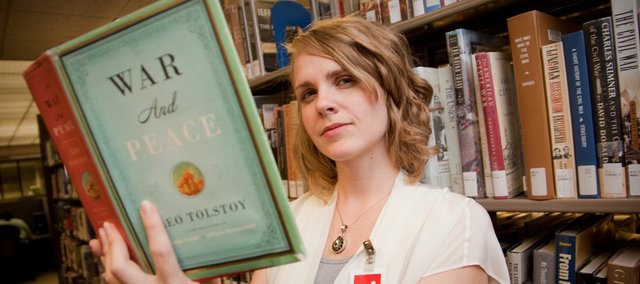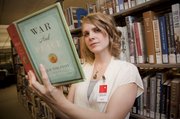 At 1,296 pages, it's the equivalent of a couple of Twilight books sewn together, though not nearly as sparkly. In fact, it could make quite the dull doorstop — a big, Russian doorstop.
That was Rachel Smalter Hall's copy of Leo Tolstoy's "War and Peace." And for two years of her life, she felt every page's weight on her slim shoulders.
It started off innocently enough, of course. Hall, the adult programs librarian at the Lawrence Public Library, 707 Vt., was a college student when a new translation of the Russian classic hit stores, prepared for print by Richard Pevear and Larissa Volokhonsky, the translators behind the Oprah's Bookclub version of "Anna Karenina."
As a college kid in a family of readers, Hall thought it would be a hoot if the whole family — her parents and all five children — read "War and Peace" together as sort of a genetic book club. So, she went out and bought seven copies of the mammoth book at $30 a pop. Next, she planned a reading schedule that started on a sibling's birthday and ended with a family sit-down at the completion of the book a year later.
"People were reading hundreds of pages ahead, people lagged behind a couple of hundred, there were fights starting in the family about where we were supposed to be and people apologizing," she says. "I mean, my family is pretty low-key, but the whole thing, it was a huge disaster."
For the record, Hall did finish the book — by herself, though her husband did try as best he could to finish it with her. They decided it would be romantic to read the book aloud to each other. Turns out it's not romantic as much as it is rage-inducing.
"Every night it would be, 'Oh, honey, do you want to read some "War and Peace" tonight?' And 'Oh no, not tonight.' And finally when we got to page 800, my husband admitted to me that he thought he'd commit an act of extreme violence if he ever had to hear Tolstoy aloud ever again," she says, laughing. "And so, I ended up finishing it by myself, but it took almost two years. And so, my ambition of everyone getting together and reading it nice and neatly ... it did not work that way. But it was a great book and even though it took two years, I'm really glad that I read it."
Yes, even librarians can have trouble conquering reading projects. But, like in Hall's case, they also succeed at reading more than the average bookworm.
So, we asked the kind folks at the Lawrence Library just how to make your summer reading project a success, whether you're reading a doorstop classic or buzz-worthy new release.
How to tackle your summer reading project
Have fun with it. First of all, pick a book or book project that won't be a drag. Dan Winsky, who works in the library's acquisitions department, loves nautical fiction. If it's on a boat during the period between the Revolutionary War and the Napoleonic Wars, he wants to read it. That's why his current reading project is all boats all the time. He's reading maritime fiction by Dewey Lambdin (the Alan Lewrie novels), Patrick O'Brian (the Aubrey/Maturin series), Bernard Cornwell (the Richard Sharpe books) and C.S. Forester (Horatio Hornblower). It's a lot to tackle, but it's got such a variety of writers, boredom is not a problem.
"The Alan Lewries Naval Adventure Series is 18 books. The Hornblower series is 11 books. The Aubrey/Maturin series is 21 books, and the Richard Sharpe series is 22 books," he says, adding it to 72 books in his project. "That's a boatload of reading! Boatload, get it? ... Luckily, they're all wonderful stories so far!"
Document it, but don't stress out. Reference librarian William Ottens is preparing to read one work by every author who has won the Nobel Prize for fiction. With the first award given in 1901, that's more than 100 books and collections of poetry, but he's got a plan. Read a little at a time, and then discuss — in his case he'll be doing it on his blog, http://whatwouldalfredread.blogspot.com — and don't beat yourself up about not reading huge chunks at once.
"Don't feel like you have to tackle the whole project, or a whole book, at once," he says. "If you have 15 minutes during lunch or a break, read a few pages. Take a half hour before going to bed and read some."
Get extra motivation. For those interested in registering, you can give your reading schedule a bit of a kick in the pants with the Adult Summer Reading program through the library. It works like so: sign up, read any five books from May 24 to Aug. 21, attend summer reading events and be eligible to win one of five prizes, including Sony eReaders, a $100 gift certificates to 715 or Pachamamas and gift baskets from Au Marche and J&S; Coffee. For more information, or to register, go to www.lawrencepubliclibrary.org.
Accept recommendations. Not sure what to read or where to start? Check with the library or the clerk at your favorite book store to get recommendations.
"I think that's one of the obstacles sometimes too, is that you want to do some reading, but you're not really sure what's good or what's hot or what you're going to like," says Hall, who recommends the library's NoveList search available in the research database section of www.lawrencepubliclibrary.org. "And we always love taking a few minutes to chat with people and finding out what you read that you liked and then (being) able to recommend things from there."
But don't waste your time. Susan Brown, marketing director, likes to point to the Nancy Pearl "Rule of 50." Pearl is a famous librarian in Seattle and the inspiration for the librarian action figure and a big proponent of making things easy on yourself.
"Her 'Rule of 50' is, if you're under 50 years old, and you don't like a book after 50 pages, just stop reading it. And then if you're more than 50 years old, you subtract your age from 100 and only give the book that many pages," Brown says. "So, if you're 70, you only give the book 30 pages. And if the book doesn't grab you, whether it's 'War and Peace' or Danielle Steel, that's it."
Consider an electronic version. The best thing about owning an eReader? The chance to easily sample possible reads says Hall, who will get a free one- or two-chapter sample on her Kindle and know if she wants to buy the whole thing (or check it out from the library). And, ironically, she thinks the electronic format can help if you choose to make a project out of a doorstop book.
"I ended up purchasing an extra copy of 'War and Peace' for a Kindle that I had been given," she says, laughing at her eighth acquisition of the book. "Oh my gosh, having it on a Kindle made it so much easier to read. That is another fabulous summer reading tip for someone who wants to read a big book."