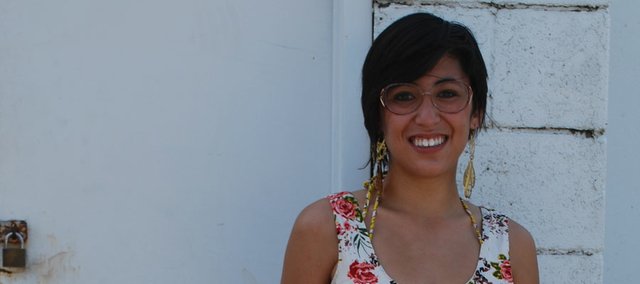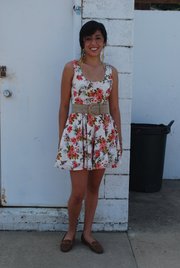 Name: Kristina Marie Tirol Van Anne
Age: 19
Sign: Pisces
Relationship Status: In a relationship
Hometown: Lawrence
Time in Lawrence: Born and raised — been here my whole life.
Occupation: Waitress at Edokko Sushi in Lenexa.
What were you doing when scouted? Hanging out at the Sunrise Apartment pool for barbecue and swimming.
How would you describe your style? I buy what I can afford, which isn't much, so I suppose 'clearance-section fab.'
What are your current favorite fashion trends? Color blocking, long dresses and fitted trousers on girls.
What are your least favorite fashion trends? Extremely tight, high-wasted skirts on girls, bright-striped tank tops on guys and tall white socks with tennis shoes on guys and girls.
What would you like to see more of in Lawrence? Cats. Everywhere.
What would you like to see less of in Lawrence? Big-box retail stores and restaurants and Sam Brownback.
Do you have any piercings or tattoos? I'm boring. Just my ears.
Do you have any fashion influences? My mother and Keri Hilson
People say I look like: My mother.
Tell us a secret: I'm wearing the same outfit I wore yesterday.
More like this story on Lawrence.com