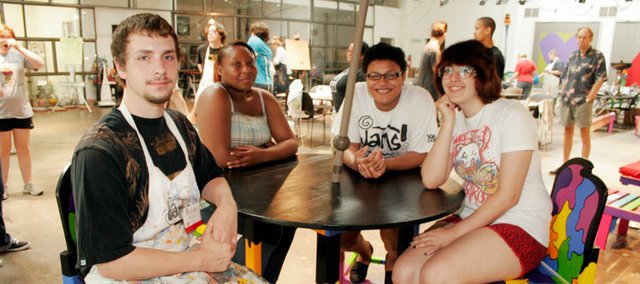 Victoria Secondine knows plenty of fellow Lawrence High School students who are slogging away at menial jobs this summer.
As an apprentice artist at Van Go Mobile Arts, 715 N.J., she's proud to say she's not one of them.
"It's not a playground, but it is a fun job. I like my job," the 17-year-old says. "Other people are always like, 'You're so lucky you get to work there.' "
It's more than just the spending money she likes, though. Secondine suffers from depression and bi-polar disorder, and she says the artistic process she undertakes at Van Go helps her cope.
"It's an outlet," she says. "I make different art when I'm in different moods. I painted these chairs when I was in a pretty good mood."
She is sitting on a brightly colored chair, one of four that encircles a black table that holds an equally brightly colored deck umbrella. It's one of many items that will be on sale or up for auction June 18 at the eighth annual What Floats Your Boat fundraiser, held at the Clinton Lake Marina.
The event — which features barbecue, the auction and music from the Kansas City funk band Groove Agency — has grown into one of Lawrence's signature fundraisers, with more than 600 people expected to attend. The event typically raises about $70,000 for Van Go, roughly 10 percent of its budget, says Eliza Nichols, the organization's marketing director.
Van Go includes two programs. JAMS — or Jobs in the Arts Make Sense — pays at-risk youths from ages 14 to 18 to create public works of art, including colorful benches and murals. Arts Train helps young adults ages 18 to 21 transition to adulthood through commissioned artwork. Both programs include social services and job training.
In some ways, the timing of What Floats Your Boat couldn't be better. With the elimination of the Kansas Arts Commission and other state budget cuts, Van Go is expecting to receive about $25,000 less in government support during the next fiscal year, Nichols says. That's around a 3.5 percent cut to the organization's overall budget.
And although artists such as Secondine have been busy creating artwork for What Floats Your Boat — including birdbaths, bird feeders, patio chairs, mosaic stepping stones and much more — they've also been keeping an eye on what's been going on in Topeka as Gov. Sam Brownback worked to eliminate the Arts Commission.
"People don't feel art is important," she says, "but it's very important. Everything is related to art in some way, shape or form. We all want a roof over our heads, but someone has to design that roof."
Nichols says What Floats Your Boat is not only a fundraiser but also is an opportunity to teach a large audience about Van Go and a way to reinforce its purpose to the apprentice artists.
"It makes them feel really good when they're pieces sell," she says. "It makes them really confident. They really have a lot invested in their pieces."
It's a feeling Heather French, 22, knows well. She had a piece sell for $1,000 as part of the Arts Train program last year.
French is one of Van Go's success stories. When she started in the JAMS program at age 14, she had truancy issues at school and spent some time at the Juvenile Detention Center.
"After coming here, I saw people who really care," she says. "It was a regular job, and I got paid, but people really care about you. I would go to school just to be able to come here afterward."
Now, French is a paid part-time Van Go employee, helping with JAMS. A condition of her employment is that she must be enrolled in school, and she just completed her first year at Johnson County Community College with hopes of becoming a nurse.
"Once I get on my feet with my career, I want to volunteer here," she says. "I want to give back everything that they gave to me."
Secondine, meanwhile, wants to pursue a career designing advertisements. She enters her senior year at Lawrence High School in the fall.
Sitting on one of those brightly colored chairs — "made from scratch," she notes, in Van Go's wood shop — Secondine has high hopes for how her latest piece will do at the What Floats Your Boat auction.
"And then, it'll be sitting at someone's home," she says. "Looking awesome."
More like this story on Lawrence.com