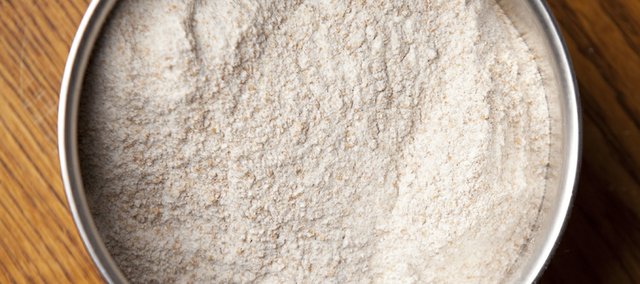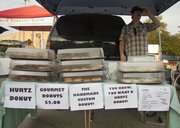 Nothing like a doughnut, or lack thereof, to put a bad taste in people's mouths.
The Capitol Midweek Farmers' Market made news at the tail end of May for what it suddenly wasn't selling: Rees Fruit Farm cider doughnuts.
Doughnuts have never been the definition of a healthy choice, but the ban by the farmers' market's overseeing agency, the Kansas Department of Health and Environment, wasn't purely a matter of health, it was a matter of source.
No, it wasn't that the doughnuts were pulled for their fatty nutritional profile — they were banned, because, despite meeting market standards for use of whole-wheat flour, said flour wasn't a local product.
In 2011, the market, which asks vendor applicants to use whole-wheat flour in baked goods added another stipulation to that regulation — all main ingredients in salable baked goods must be grown and processed in Kansas, including the whole-wheat flour.
No Kansas whole-wheat flour, no doughnuts.
No doughnuts turned into a big deal, with most major news outlets in the northeastern section of the state covering the ban and the outraged customers whose sweet teeth were denied.
But the biggest news of all slid under the radar: The ban exposed a hole in our local food economy much bigger than those found in the tasty treat that started it all. Because, despite the fact that Kansas is consistently the top wheat producer in the nation, it ranges from difficult to expensive to knowingly purchase Kansas-grown, Kansas-ground wheat flour.
Yes, it's true. Heck, even the owner of the only mill in this corner of the state grinding 100 percent Kansas grain says that getting the type of flour most market bakers would want for sweet treats is downright difficult on a local level.
"If you're looking for whole-wheat flour, that's pretty simple to get," says Lee Quaintance, who, with his wife Cindy, runs Soaring Eagle Farm/ACME Grain in Edgerton. Their whole-wheat flour is available in bulk from The Merc, 901 S. Iowa. "If you're looking for just the white flour, that doesn't have any bran and germ in it, that's a little more of an issue, because that takes an awful lot more effort and machinery and cleaning and all that sort of stuff."
Balancing source with production
When Ellie Garrett and Bridget Patti were conceptualizing their bakery business, they knew they wanted to go as local as possible. They sought out local producers to find eggs, butter, milk, cream, honey, fruit, wine, beer and wheat for the cakes, pies and pastries that would soon be sold under the Backdoor Bakery label at the 2011 Lawrence Farmers' Market.
"For us, we were trying to use as many local products as we felt were as high quality as possible to begin with," Garrett says. "It was a question of quality balancing with local as far as priority goes."
Garrett and Patti get their flour from both Quaintance's ACME and Heartland Mills. They say that though they could buy generic bags of King Arthur Flour and feel pretty confident that at least a percentage of that flour was ground from Kansas wheat, they preferred to work through local mills.
It's that kind of gumption that looks pretty good these days on a market application. Both Linda Cottin of Cottin's Farmers' Market and Tom Buller of the Lawrence Farmers' Market say that the use of local products does give some weight to a vendor competing with others for a coveted market space.
"Basically, we don't have a strict requirement on our baked goods or prepared foods that all the ingredients have to be local. We felt like that would become a big headache to try to police," Buller says. "We don't have that standard, but what we do is when we look at applications ... we kind of give preference to people in the categories of baked goods and prepared foods that do use local products or try to the best of their ability."
Cottin says that her market has just 16 spaces. Because of the market's size, she says eventually she may ask bakers to source their products locally, but that right now her main concern is to provide safe incubation to new members of the local food economy.
"First, we want to get them producing and comfortable," she says. "Once they get producing and they are comfortable marketing their product and selling their product and all that, then ... I think that's the time to start introducing the local product concept."
Years away?
So, how will the Wheat State get its local flour? Mercedes Taylor-Puckett of the Kansas Rural Center says that until the infrastructure is sorted out — there are both more mills and more independent grain growers — the local food economy will be somewhat incomplete.
"In other areas of the country, grain farmers and bakers have gotten together and they're trying to rebuild that infrastructure that we've lost through consolidation," she says, adding that infrastructure equals jobs. "And so, it would be really interesting to explore whether we can look at grain in Kansas as a product, not just a commodity."
Thom Leonard agrees that a movement has picked up in other parts of the country. Leonard, the co-founder of Wheatfields Bakery & Cafe, 904 Vt., says that he's worked with or knows of groups in climates as diverse as Washington State, Colorado, North Carolina and Upstate New York on growing local wheat. It's a process of returning to the old ways before crop subsidies and industrialization modernized food production.
"Well, not everybody can have local papayas. But wheat of some type can be grown in almost any state," Leonard says, noting that Florida and Alabama both currently grow more wheat than Iowa. "It used to be that wheat was grown as part of a rotation on the farm."
And that means diversification for local farmers. As Leonard points out "the farmer growing tomatoes isn't the farmer growing wheat" much of the time. But two Lawrence Farmers' Market vendors are working to change that.
Don Edmonds of Rocky Hills Elk Ranch in Winchester and Jill Elmers of Lawrence's Moon on the Meadow Farm are both growing crops they hope to mill. Edmonds is experimenting with open-pollanated corn from century's old seed and is hoping to get it ground in Nebraska and sold at the farmers' market. Elmers is testing 1.5 acres of heirloom wheat. She hopes to have a stock of wheatberries and ground flour to share with her CSA and farmers' market customers by the end of the year.
It's a start, but one could scarf a lot of apple cider doughnuts on the journey to where the state would need to go to make it easy for anyone to get locally grown and milled flour for a reasonable price.
"I think it would be a several-year project," Taylor-Puckett says of connecting bakers with grain growers. "I think the situation in Topeka has highlighted opportunities to more fully integrate farmers' market products with local foods. I think it's ... something that we should really take a look at as an opportunity, not as a challenge."