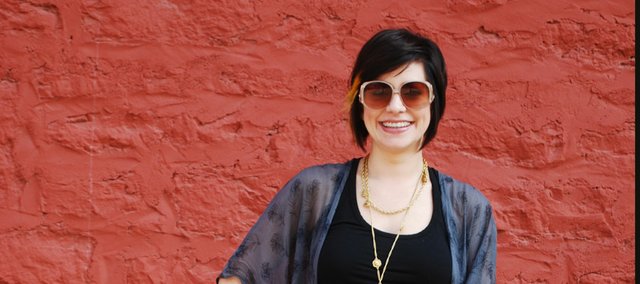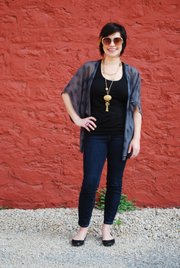 Name: Sarah Casto
Age: 27
Sign: Pisces
Relationship Status: Married
Hometown: Topeka
Time in Lawrence: Eight glorious years.
Occupation: Hair stylist
What were you doing when you were scouted? Working at Salon Blush.
How would you describe your style? A little trendy, a little classic. Mostly just unfussy and comfortable.
What are your current favorite fashion trends? I love seeing nautical pieces every summer.
What are your least favorite fashion trends? I was pretty happy to see harem pants come and go.
What would you like to see more of in Lawrence? I'd love to see more and more people discover and support businesses downtown.
What would you like to see less of in Lawrence? Less empty storefronts downtown.
Do you have any piercings or tattoos? Yes, four tattoos. Pierced ears, used to have my septum pierced. I decided it made me look a little scarier than I'd like.
Do you have any fashion influences? Mrs. Roper and Gwen Stefani.
People say I look like… The most flattering was Audrey Tautou. The funniest was a man at a gas station who yelled, "You look like that one chick from the Go-Gos!" out of his car window.
Tell us a secret: My dog and I make the same noises in our sleep — or so my husband claims.
More like this story on Lawrence.com