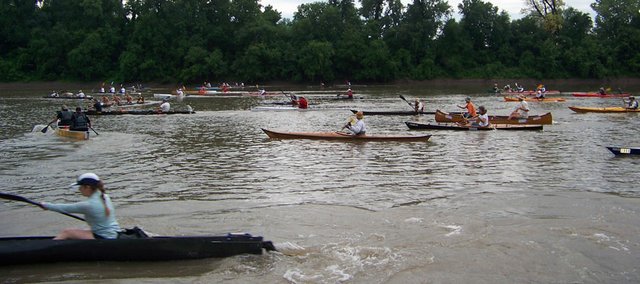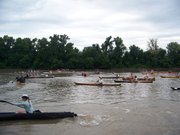 Calling all river racers
Registration for the Gritty Fitty is still open. To register for his and other river races in the Kansas area, visit rivermiles.com.
Aptly named, the Gritty Fitty river race, kicking off 8 a.m., Saturday, at the Eighth St. boat ramp, is a 50-mile race down the precarious Kansas River with its ubiquitous rasping sandbars. The race ends at Kaw Point, in Kansas City, where the Kansas River meets the Missouri river.
Race director Scott Mansker says, although the race is considered a relatively short one in comparison to other kayak and canoe river races, this race can be a technically challenging one, because of the usually low water levels.
"I've paddled the Kansas River 25 years now," Mansker says, "and (the name Gritty Fitty) pretty much well describes it. It's gritty. It's sandy. You're dragging your boat over stuff." 

Mansker says this fifth-annual race, which will include an estimated 70 boats, may be a little different this year, however. Due to recent heavy flooding up the Missouri and Kansas Rivers, there could be an earlier finishing point to the race — Edwardsville — and river conditions as a whole could be unusual.
"I'm told that, as of today, the finish line we use is eminently underwater – that's Kaw Point in Kansas City," Mansker says. "Also, the Missouri River will rise another two feet by race day, and the Kaw River will rise another four feet. The record times are around six hours. This one is going to be much faster because of the water. It'll be closer to five hours. If we have to shorten it, it'll be three-and-a-half hours."
Lawrence Resident Christina Glauner, a participant in this year's Gritty Fitty, says she's looking forward to the race for several reasons, one in particular being that the Kaw is such an unpredictable river.
"It's a hard river to race on," Glauner says. "There's a lot of complaints that go on before the Gritty and after the Gritty. The Kaw doesn't have much current , so you don't get anything for free on the Kaw. It's a love-hate thing for a lot of people. It's really difficult, but it makes finishing or placing that much sweeter when you get to Kansas City."
Glauner agrees with Mansker that the water levels will make this year's race much faster than usual, and maybe a bit less challenging as well.
"It'll make it easier. We're going to have a good amount of water this weekend. Right now, it'll definitely be easier for racers all around because of that. There probably won't be people getting stuck on sand bars or anything like that."
Fellow racer and Kansas City resident Dan Grubbs says paddling on the Kansas River is a never-ending project, that he learns something new about the river or himself every year at this race.
"There's a lot to learn," Grubbs says. "Each year you do the Gritty Fitty, you'll learn something more about the river — how to paddle — or about yourself and how you react. Fifty miles can be a long race. For some, it's the shorter end of things, but for many people, 50 miles is a long way. One of the evil things about the Kaw is the wind can come from lots of different directions and then it all gets funneled down into the river. Paddling against the wind and waves can wear you out in a hurry."
Grubbs says another aspect he enjoys about racing is simply taking in the beauty of the natural surroundings and gaining a respect for the river's environment.
"Not only does (river racing) afford an opportunity to get on the river and experience the river," Grubbs says, "paddling on the Kaw or Missouri, or wherever, creates an awareness of these river basins. People begin to take ownership and take care of the rivers. This is about how these races connect people to the rivers."
At the end of the day, though, Grubbs says what keeps bringing him back to the water are the people he's met over the years that have become his close friends.
"It's about being with these people. These are some of the best people I've met outside of my church. They'll do anything for you —they'll give you whatever you need. It's kind of funny, cliché, it's from a Creedence (Clearwater Revival) song, 'River people, they're happy to help, they're happy to give.' The community up here is not cutthroat at all. It's not like that here. Everyone is helping each other succeed."
More like this story on Lawrence.com