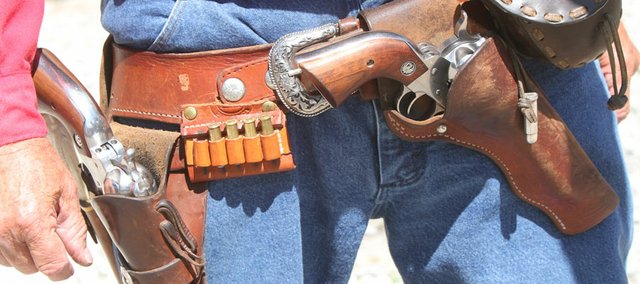 A light breeze blows through the thoroughfare as men in boots with spurs cross the street, some exchanging pleasantries and others preparing their weapons. Women in bonnets and more layers than would be considered comfortable on this sunny Saturday in June follow, stopping to admire the storefronts or look at some of the goods on display at one of the many stands lined up along the opposite side of the well-worn path. The sulfury smell of gunpowder hangs in the air.
But this isn't a scene from the Coen brothers' "True Grit" or an episode of "Deadwood." It's at the Hodgdon Powder Creek Cowboy Action Shooting Range, in west Lenexa, near Kansas Highway 7. And the reason for all of this period-piece spectacle is the 2011 Prince of the Pistoleers, the three-day state shooting championship for single-action shooters.
Horses of a different feather
The Powder Creek Cowboys were founded almost 10 years ago by Stuart Barber and 20 other enthusiasts eager to celebrate the heritage of the Old West by dressing the period and firing single-action revolvers, pistol-caliber lever action rifles and shotguns from the period (read: pump or double-barrel). It wasn't long after forming that the group decided they needed to become affiliated with the Single-Action Shooting Society. As a SASS affiliate, The Powder Creek Cowboys could host SASS-endorsed events and enjoy the Second Amendment protections afforded to them by an international club.
"They are the single largest governing body in Cowboy Action Shooting worldwide. There are 92,000 members worldwide, over 600 Cowboy Action Shooting clubs in the country. It is considered the largest and fastest outdoor shooting sport in America," Barber says.
The Powder Creek Cowboys is one of seven SASS-affiliates in Kansas, and Barber estimates them as the biggest in the state, boasting more than 120 members.
One requirement of SASS members is costuming. If you're going to shoot cowboy guns, you've got to look the part. From the SASS website: "Each participant is required to adopt a shooting alias appropriate to a character or profession of the late 19th century, a Hollywood western star or an appropriate character from fiction." Once that's done, it's onto the alias. Like the previously mentioned costume clause, all shooters need an alias (Barber's is Tame Bill).
"In the single-action shooting society, everyone adopts an alias and from that alias, then they develop a character," Barber says. "Part of the shooting is not simply the competition, though that's a big part of it, but developing that character and costuming accordingly, so costuming is part of the shooting."
Location, location, location
After the club was established, it became clear the group needed a place to call home. Every shooting club's only as good as its shooting range, after all.
With the approval of the Powder Creek Shooting Park's board of directors, some acreage was reserved behind the high-power rifle berm. It was there that construction on Hodgdon Powder Creek Cowboy Action Shooting Range would begin.
The result is a series of four building fronts, lined side-by-side, united by a wood plank walkway and hitching posts. Each building is stocked with minor but purposeful detail. Looking out any of a given building's windows or doorframe yields a view of the hillside/shooting range. From here, shooters take aim at targets unique to each weapon type, shout their catchphrase to alert their cohorts of the impending gunshot and fire.
Them's the rules
While there are long-range and black powder competitions during the three-day championship, the main match took place last Saturday. There, shooters are tested on their pistol, rifle and shotgun speed and accuracy through a circuit-style competition, in which each weapon is fired at a specific set of targets and is done so in a specific order. Because there is a certain level of theater involved, the organizer of each station reads a detailed scenario before each round that involves Wild West themes such as horse theft or a hostage situation in a saloon. To signify their readiness, a shooter must shout a specific phrase before beginning the circuit like, "Give up the horse!" This also signals the time keeper to start.
Shooters are judged on time, but accuracy is a factor as each miss adds seconds to overall time. Shooters who hit every target are declared "clean" by the judges and are met with whoops and hollers from the spectators.
Fill your hands
This year's state championship featured more than 120 shooters who hailed from all over the country and, in one couple's case, Canada. One shooter in particular was Lawrence's own Larry Warren, known amongst his Powder Creek pistoleros as Quirt Dunn. Like many of the members of The Powder Creek Cowboys and other SASS-affiliated groups, Warren got into shooting later in life. At 76 he boasts the title of elder statesman and wears it proudly and literally in the form of a champion belt buckle.
"Once you hear those metal targets ring, you're hooked," Warren says. "I've always been a history buff. That's part of it, too."
Retired, Warren got into cowboy action shooting almost by accident when a friend took him along to a shoot in Ellsworth. The outdoor sport suits him fine, but the real draw for Warren isn't the excuse to shoot vintage pistols or play cowboy two weekends a month and a Wednesday. It's the camaraderie he shares with his fellow gunmen.
"You meet a lot of nice people. If you want to get started, all you have to do is go and people will help you, even loan you guns, if you need them," Warren says.
Within five minutes on the shooting range and it's easy to see why. Shooters stop by to say hello or ask about his previous round, while he tends to his guns. Some joke with him about becoming a local celebrity and turning into a prima donna. Warren laughs this off as he sits with a group of weekend westerners during the championship's Saturday lunch break. Warren didn't place in the top on Saturday, but that was never the point.
"I'm out of the run now, so I can just have fun. That's what I'm here for anyway, fun," Warren says.
More like this story on Lawrence.com