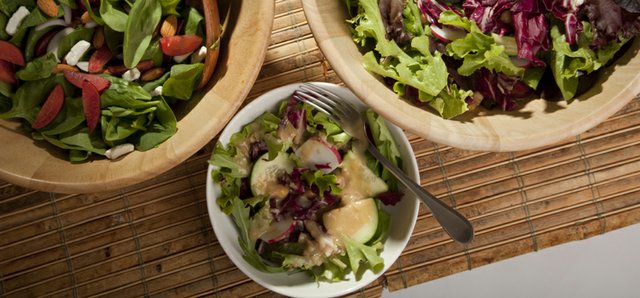 Salad should be a summer staple in every household, given the abundance of seasonal faves for the salad bowl, including tomatoes, carrots and cucumbers.
But there's more to the summer salad's DNA than just the obvious.
With a few adjustments, you can chow down on a salad with an Asian flair. Work in cooked summer treats like green beans and zucchini. Or add a tangy goat cheese or sweet seasonal berries.
Whatever the case or your tastes, we are in prime salad eating time. Don't spend it with the same old, same old of lettuce, carrots, tomatoes, cheese and croutons.
Recipes
Big Beautiful Salad with Lemon-Miso Dressing
4 ounces (about 8 cups) mixed baby lettuces
1/2 small head radicchio, chopped
1 (15-ounce) can no-salt-added garbanzo beans, rinsed and drained
1 1/2 cups cooked and cooled wheat berries or barley
1 bunch radishes, whole, halved or quartered
1 cucumber, thinly sliced
3 tablespoons lemon juice
3 tablespoons apple juice
3 tablespoons white miso paste
1 shallot, finely chopped
In a very large bowl, combine lettuce, radicchio, garbanzos, wheat berries, radishes and cucumber. In a small bowl, whisk together lemon juice, apple juice, miso, shallot and 1 tablespoon water. Drizzle dressing over the salad and toss. Serves 8.
— Recipe from www.wholefoodsmarket.com.
Growing Season Salad
2 cups vegetables (blanched asparagus, beans, chopped cucumbers or zucchini)
1 1/2 cups coarsely chopped tomatoes
1/2 cup diced cheese (or shredded or crumbled)
1/4 cup sweet onions, thin-sliced
1/4 cup extra virgin olive oil
3 tablespoons balsamic vinegar
Chopped fresh herbs to taste (dill, basil, mint, cilantro, or parsley)
2 teaspoons minced, mashed garlic
Salt and pepper to taste
5-6 cups bread cubes (stale, but not hard)
Toss all ingredients except bread in large bowl. If time permits, let the mixture stand at room temperature to develop flavor, tossing occasionally, for about 1/2 hour. Toss in bread and serve immediately. Makes 4 servings.
— Recipe from www.organicvalley.coop
Spinach Salad with Plums and Goat Cheese
2 tablespoons sherry vinegar
1/8 teaspoon sea salt
1/8 teaspoon freshly ground black pepper
2 tablespoons extra-virgin olive oil
1 (5-ounce) package baby spinach
3 plums, pitted and thinly sliced
3 ounces Humboldt Fog or other fresh goat cheese, crumbled
2 shallots, thinly sliced
1/2 cup toasted sliced almonds
In a large serving bowl, whisk together vinegar, salt and pepper. Gradually whisk in oil until vinaigrette thickens. Add spinach, plums, cheese, shallots and almonds and toss gently until evenly coated.
— Recipe from www.wholefoodsmarket.com.
Asian Summer Salad
2 cups romaine lettuce, chopped
2 cups napa cabbage, shredded
1/2 cup oranges, segmented
1/2 cup carrots, shredded
1/2 cup green onions, 1 inch pieces, sliced thin
1/2 cup won ton wrappers, cut into strips and fried
1/4 cup roasted soy nuts
In a mixing bowl toss together romaine lettuce, cabbage, oranges, carrots and onions. Transfer to salad plate.
Arrange wonton strips and soy nuts evenly over the top of salad. Garnish with sesame seeds. Drizzle with Ginger Sesame dressing. Serves 2.
Ginger Sesame Dressing
1/2 cup rice vinegar
1/4 cup soy sauce
2 tablespoons sugar
1 tablespoon ginger root, grated
1 teaspoon minced garlic
1 tablespoon sesame seeds, toasted
2 tablespoons cilantro, chopped
6 ounces vegetable oil
3 tablespoons sesame oil
1 pinch salt and pepper
Combine all ingredients in blender until thoroughly mixed. Can be refrigerated up to 1 week.
— Both recipes from www.melissas.com.
Casaba Melon Sunshine Salad
2 cups casaba melon, peeled and diced
2 cups pineapple, peeled and diced
1 papaya, peeled, seeds removed and diced
1/2 head romaine, lettuce shredded
1/4 cup citrus dressing (your favorite brand)
In a large bowl, combine the melon, pineapple and romaine. Drizzle with the vinaigrette.
— Recipe from www.melissas.com.