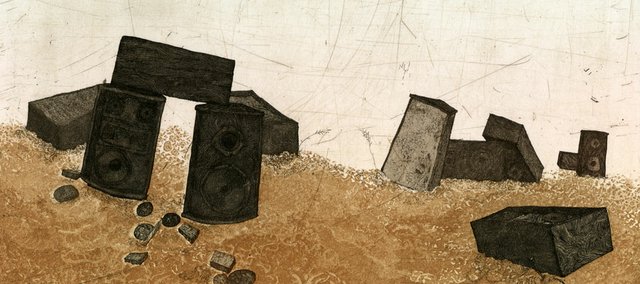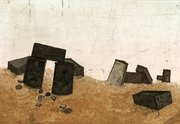 The idea of appliances piled up in a junkyard is not something most people think about when they go out to buy a new microwave, but Athens, Ga., artist Andrew Burkitt has. This is the inspiration for "Karma Bones," Burkitt's new exhibition opening at The Invisible Hand Gallery, 801 1/2 Mass., this Friday. Karma Bones features 13 intaglio prints, and centers around the cyclical nature of human society and idea of impermanent humans creating permanent objects.
"We understand rationally that the human race will come to an end and there will be things left over that other sentient beings could find," Burkitt says.
Many of the prints in "Karma Bones" feature landscapes littered with common household objects such as stoves, refrigerators, and, in the case of "Speak," stereo equipment. The juxtaposition of natural and synthetic elements focuses attention on what place man-made objects hold in the world.
"I'm just interested in where all these things go, where these things go when we don't use them anymore," Burkitt says.
Burkitt, a former Lawrence resident and Kansas University student who now attends graduate school at the University of Georgia, created all the works for the exhibition this year, most of them in the last month. Burkitt recognizes that the processes and materials used to create his art — metals, acids — aren't exactly natural, either. He says this is something he's still trying to reconcile.
Karma Bones runs through July 23.