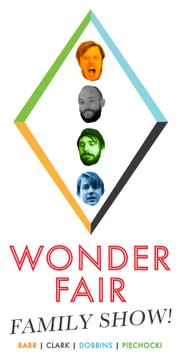 The Wonder Fair operators are inviting the public to become one of the family during the Wonder Fair Family Show. The first ever group exhibition by the Wonder Fair Family (gallery owners and operators Kelly John Clark, Jason Barr, Eric Dobbins and Lee Piechocki), the Wonder Fair Family Show will present more than 300 prints by the four artists, the purchase of which can gain any common gallery-goer entrance into the illustrious Wonder Fair Family.
Clark says that when the four gallery operators began the space, they chose four symbols (a flame, an anvil, a diamond and an "ambiguous green pile") to make up the gallery's logo, and each person internalized one of the symbols as themselves. For the Wonder Fair Family Show, each of the artists created an image of their respective symbol, and the group will display more than 300 prints of these images — in varying degrees of quality — around the gallery.
Purchasing one of these prints buys gallery visitors a membership into the Wonder Fair Family, complete with a stamped certificate to serve as something of a club card. Prices of the prints will vary.
Clark says the decision to do an in-house exhibition was due in part to the amount of time the four artists have been pouring into the gallery, leaving them less time to focus on their crafts.
"We decided last fall that we need to put out a show for ourselves to force ourselves to make work," Clark says.
The Wonder Fair Family Show will run through July 30.