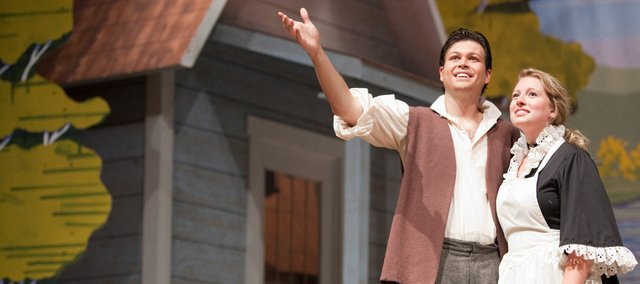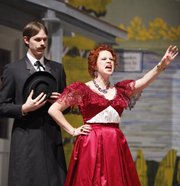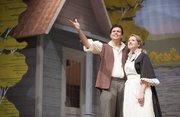 In celebration of the Kansas Sesquicentennial, the University of Kansas Theatre Department presents a melodramatic production of "Dirty Work at the Crossroads," or "Tempted, Tried and True." Directed by Kansas City resident Kip Niven, the production will include sing-a-long performances during intermissions led by Niven and other production crew.
An alumnus of the university theatre dept., Niven has lived and worked in New York City and Los Angeles, but moved to Kansas City in 1995. His theatrical work includes Broadway performances, roles in feature-length films and appearances on television shows such as "Law and Order" and "Walker, Texas Ranger." Though his career has taken him far and wide, he has remained in contact with the university theatre, "I'm one of the founding members of the professional advisory board for the department, so I have stayed active as an alum over the years," Niven says.
This connection, he says, is important to him, as he enjoys being in contact with the students and department faculty. This will be Niven's fourth return to work on a production since his graduation from the program in 1968. "I've done three guest artist stints at KU," Niven says. Previously, he has returned to direct productions of "The Tempest" and the musical "Hair." The third visit he was cast as an actor in a production of "Translations." With a healthy sense of humor, Niven explains how he was chosen to direct this production. "They needed a director this summer … I gather there were enough yea votes to outweigh the nay votes, so they asked me to do it."
Readapted in 1965 by Bill Johnson, the production itself is based upon the melodrama first staged in 1890. Though adapted at a later date, Niven is quick to point out that many of the basic tenets of melodrama still exist. "This [production] is in the flavor of the old melodramas. It is very much patterned after those melodramas where there is the hero and the villain and the heroine and sidekick, and everybody stops while people sing songs," he says.
The story centers on four critical characters, two young would-be lovers and two trickster villains who have set in motion a plan to keep the lovers apart and kill the young woman's widow mother to gain what they deem to be a great fortune. The lovers, a young man working in a small town livery and a young woman living on a homestead with her mother are quickly manipulated by the villain and villainess, whose plan to marry the villain and young woman and thus gain rights to her property, builds toward a dramatic scene in the third act. The value of the homestead, the villains have learned, has shot up exponentially because of land speculation.
The acting style, Niven points out, "is a bizarre technique. It's over-the-top, almost presentational." This style is different from what the student actors have previously dealt with, says Niven. "That's been the big challenge for everybody, to get used to this new sort of acting and using rather archaic language."
Shannon Buhler, a junior in the program from Shawnee plays the heroine Nellie Lovelace. Buhler says this approach to acting has been especially interesting for her. "It's a style of theatre and acting that is so exaggerated and different from anything I have ever been a part of. It's been great to work with Kip and the cast as we've all become accustomed to this melodramatic style," she says.
Buhler describes her character's transition from innocent and naive to brave and wise as admirable. "What I love about her is that no matter the hardships she suffers, she maintains her sense of optimism and continues to have hope."
With three acts, Niven knew he needed to find a way to keep the audience engaged during the two intermissions. "Because there are musical numbers in the show, I thought, why don't we sing some of those old songs that people know that were contemporaneous with that time?" Thus during intermission Niven, along with J.T. Nagle, the stage director and Jakob Wozniak, the musical director and pianist for the production, will lead the audience in a sing along featuring "Down by the Old Bell Stream," "Bicycle Built for Two," "In the Evening by the Moonlight," "I've Been Working on the Railroad," and "Coming Around the Mountain."
Niven says the cast and crew have done a wonderful job thus far. "What has been most exciting is to see to see how willingly they're doing something very foreign to them and they're now mastering the technique. Everybody has made giant strides. I don't want to jinx us, but we're in pretty good shape. The kids have been terrifiic."