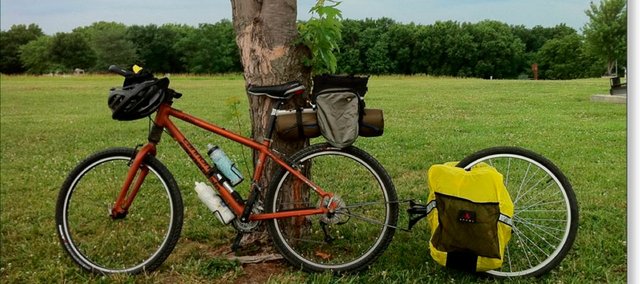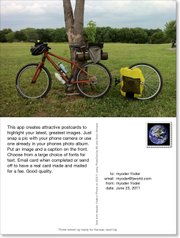 I leave today on a weeklong bicycle ride with friends, and we're carrying gear including tents, sleeping bags, clothes and plenty of Ibuprofen. I'm traveling as light as possible so I won't run the risk of gassing out in stiff Kansas headwinds and 90-degree-plus temperatures.
I didn't pack my Canon DSLR equipment. It's too heavy, and if I take a spill, it's more susceptible to damage. Unfortunately, I broke my other camera, a compact point-and-shoot. Since we won't have time to stop and draw pictures of interesting sites, I'll use the camera on my cell phone. My iPhone 4 has a decent 5-megapixel camera and a good macro feature. Images straight out of this camera can be above average depending on the owners' capabilities and knowledge of good camera practices. But the really fun thing about smartphone cameras is the cool apps that enhance the camera's capabilities and add some amusement. Here are a few apps I have and may put to creative use on my ride.
(Editor's note: While many of these apps or their equivalents appear on Android, Windows Mobile or webOS, all of the apps mentioned here are for iOS.)
This retro app combines four successive square photographs in a strip like from old photo booths. Time between shots is adjustable from 3 seconds to one minute. You can also create strips from images in your phone's photo album and upload strips to Facebook and Twitter. The strip's file size is small, appropriate for online posting, but not really for printing.

Create emailable postcards from your phone. Snap a new pic or pull one from your photo album and add a caption for the front. Choose from a huge selection of fonts and write a long note on the back. Email these to friends or keep them for yourself as a 21st century souvenir. The app is simple to use and leaves a great-looking finished product. The file size is large enough to print and mail as a real postcard, which is also possible from within the app.
This very cool tool doesn't have a lot of settings to get in the way of what it does best. It takes a fairly high resolution image with a small selection of lenses and film, each with unique properties. The quality is high, and the app is well-designed. I now consider it my go-to phone camera. New York Times photographer Damon Winter used it to document soldiers in Afghanistan. He won third place in a Pictures of the Year International contest using the Hipstamatic app. View his series "A Grunt's Life" at http://www.poyi.org/68/17/third_01.php.
There are thousands of photo apps, many free. The nice thing about apps is that no matter how many I load on my phone, they won't add any weight. I'll post photos and notes from my bicycling road trip at the LJWorld's WellCommons site.
More like this story on Lawrence.com