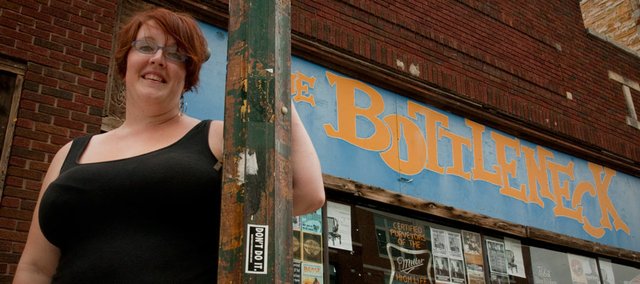 Past Event
Saturday, July 2, 2011, 8 p.m.
Bottleneck, 737 New Hampshire, Lawrence
All ages / $7
May 22 started out like any other day for Lawrence resident Lindsey Frye. After a day at the park with her children, Frye returned home and got online to check her Twitter account. What she saw instantly horrified her. Trending on the popular social media site was information regarding a horrific natural disaster. Though the skies were sunny in Lawrence, a massive category EF-5 tornado had touched down in Joplin, Mo., cutting a mile-wide, 13-mile-long swath of destruction through the city, killing over 100 people and derailing the lives and livelihoods of thousands of others.
"I was just looking at the photos and was floored," Frye says. "We get tornado watches all the time, but we never think of anything like that ever happening. With this happening so close, I was dumbfounded."
Frye decided to take action. Contacting local musicians and businesses, Frye has organized Jammin for Joplin, a benefit concert taking place 8 p.m. Saturday at the Bottleneck, 737 N.H.
Jammin for Joplin, an all-ages event, will open with local cover band Sellout taking the stage, followed by local DJ Approach. There will also be an auction with items such as Kansas University men's basketball tickets and Worlds of Fun tickets up for grabs. The price of admission is $7. All money from the door goes toward the rebuilding effort in Joplin and the community of Reading, also recently struck by a tornado.
Donations to those in need can also be made out directly to The United Way and sent care of KLWN, 3125 W. Sixth St., Lawrence 66049.
Frye says organizing the event has been challenging, but because of help from Sellout band member and local musical promoter Steve Ozark, she was able to put together what she thinks will be a fun, family-friendly night that also raises money for an important cause. Frye says she was impressed by Ozark's commitment to helping with the benefit concert.
"I posted on Facebook, 'Who's your favorite band?' I don't know why, but that band (Sellout) kinda stuck out. I looked them up — they're very versatile. They've turned down a paying gig the night before to make this even more of a success. It just astounds me, because I don't have a dime to offer to these people and everyone involved is just completely donating their time."
Ozark heaps the praise back on Frye, saying that without her motivation, none of this would have been possible.
"I don't think this is her cup of tea," he says, "but she knew we needed to bring in a lot of people, which is tough. I was really moved by the whole thing, especially Lindsey's inspiration. I know it hasn't been easy for her. It's all about getting the word out now and what people want to do on a weekend.
"She's worked really hard on this and has done a good job. I book bands for a living, around the world, and I know how promotions work, and it's harder than it looks. She's done a championship job of putting this together. I find it really inspiring to see someone (set this event up). To me that's a really inspiring situation. People should get beyond their paradigm of merely feeling bad. We cut ourselves down before we ever give ourselves a chance."
Part of Frye's organization of Jammin for Joplin was contacting her friend Sean Hunt, better known as Approach, a local DJ and music producer. Hunt says playing this show was an obvious decision.
"Humanity is important," Hunt says. "Anytime something happens, whether it's right in your own city or many states away, it's important to connect and step outside your own world. That's what we're here for — not to pursue money or personal endeavors, but to help people. It's our duty as human to lend a hand and see if there's any way we can help."
Hunt says the most enjoyable part of being involved in a show like Jammin for Joplin is the sense of helping out people in need when they finally receive the donations and can put the money to work in their lives.
"The reaction of the people — that's the best part — when it's all said and done and the money being raised is actually given to the folks in Joplin," Hunt says. "To see that you can deliver your time and see what your talents can do. I'm fortunate enough that people enjoy it (his music). Seeing what it actually means to them, that's what's the best part for me. Just to know that you looked out for your fellow man, because this could very easily have happened in Lawrence."