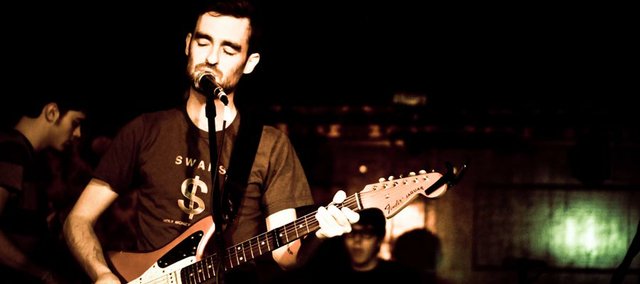 Though many college students spend the dreary winter months dreaming of spending spring break on a white-sand beach, for music fans, the third week of March is synonymous with one thing: the South By Southwest music and film festival.
Each year, thousands of bands descend on southern Texas for five days of non-stop shows and parties in every conceivable space in Austin. Here's a look at a few Lawrence bands making the trek this year.
The Appleseed Cast
Atmospheric-rock veterans The Appleseed Cast will be making their fourth appearance at SXSW this year.
This time around, they'll be promoting a new EP, "Middle States." Guitarist Aaron Pillar says the band will have digital downloads of the EP available at the SXSW shows, though it won't be available physically until later this spring.
As an already well-established band, Pillar says his main goal for the festival is to support the band's new label, Graveface Records. They're playing two Graveface showcases, one on March 18 at 4:30 p.m. at Skinny's Ballroom, and again on March 19 at the Blue Starlite Mini Drive-In.
Pillar says he loves how accommodating and receptive Austin is to bands and festival-goers. He recounts one time when, slightly boozey after a performance, he went out to the band's van to listen to Kansas University basketball highlights and ended up locking the keys in it while the engine was running. When two bicycle cops approached him, he was pleasantly surprised when they turned out to be Appleseed Cast fans.
"These two crazy cops come back from the station with a slim jim and open the van," he says. "I ran out and gave them free T-shirts."
After their shows in Austin, The Appleseed Cast will be heading on a two-week tour throughout the southwest and up the west coast with fellow Lawrence rockers Muscle Worship.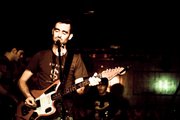 Hospital Ships
Jordan Geiger, main man behind quirky pop group Hospital Ships, is no stranger to SXSW. Having previously played SXSW with Old Canes and Shearwater, this will be Geiger's fourth time performing at the festival, but will be the first time playing his own music.
"It's kind of Hospital Ships' coming out party," Geiger says.
Hospital Ships will be playing two showcases for Graveface Records. They'll hit the stage at 9 p.m. on March 18 at Skinny's Ballroom, and again the next night at the Blue Starlite Mini Drive-In.
With the endless list of bands playing SXSW, Geiger says he's a bit skeptical about the amount of exposure the festival will bring Hospital Ships, but he says he's excited that the event will bring his friends from around the country together to see him play.
And being somewhat of a SXSW veteran, Geiger has his fair share of memorable moments. From sleeping under interstates to blowing vuvuzelas at random strangers (and at Matt Pinfield during an MTV taping), Geiger has plenty to look back and laugh about. Playing with Shearwater last year, Geiger ran into one of his musical heros: David William Sims of the Jesus Lizard. After chatting, Sims ended up staying to see Geiger play his set.
"That kind of random occurrence is what I look forward to," Geiger says.
Cowboy Indian Bear
This being their second consecutive trip to SXSW, Cowboy Indian Bear will be putting less focus on getting their dancy pop tunes heard by new ears, instead trying to simply take in the festival and have a good time. Multi-instrumentalist CJ Calhoun says the often overwhelming number of things to do at SXSW makes it difficult for bands to promote their performances.
"It's become more of a party rather than a productive thing for bands to do," Calhoun says.
After a string of shows heading down to Texas, Cowboy Indian Bear will play the Liberty Bar on March 18 at 9:45 p.m. as part of the Midcoast Takeover, a showcase of Kansas City-area bands put together by the Midwest Music Foundation.
Mansion
Sludgy rock outfit Mansion will be making their first appearance at SXSW as a band this year, though guitarist Kyle Sheline says that several of the band members have been going to the event as fans for years.
Sheline says the band isn't putting too much pressure on itself to turn any heads at the event. They're mostly looking forward to seeing friends and enjoying the festivities.
"We're not necessarily looking to have anything happen, Sheline says. "We just normally go down for fun anyways so I'm excited to be able to play, too."
The band will be playing the Midcoast Takeover event at the Liberty Bar on March 18 at 3:45 p.m., and also will be playing later that night at the Takoba restaurant. Sheline says he's especially happy to be playing at the Liberty Bar, where he sees some reminders of Lawrence.
"I would probably hang out there even if we weren't playing," Sheline says. "It's kind of like the Replay of east Austin."
Mansion will also be playing shows with Appleseed Cast and Muscle Worship in Dallas and Oklahoma City on the way down to the event.
Editor's note: If you're performing at SXSW and don't see your band in this list, let us know at homies@lawrence.com and we'll add you to the story.