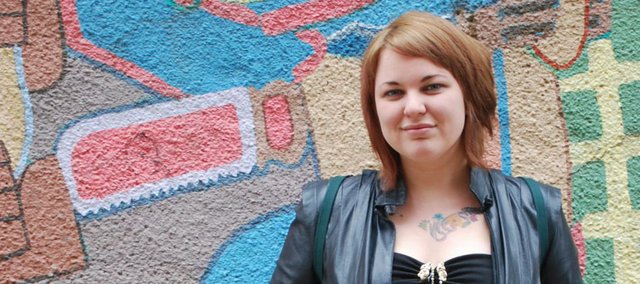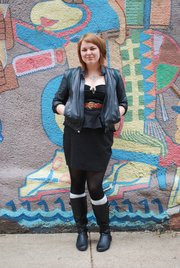 Name: Katlyn Rose Conroy
Age: 22
Sign: Libra
Occupation: Musician in Cowboy Indian Bear/Web designer.
Relationship status: Currently being courted.
Hometown: Lawrence
Time in Lawrence: 22 years
What were you doing when you were scouted? Wandering/wondering about.
How would you describe your style? It changes from day to day. I'm an emotional dresser.
What are your current favorite fashion trends? Hair brooches, knee-high socks, red lipstick, and lace.
What are your least favorite fashion trends? Headbands, denim dresses, and boys wearing flip-flops.
What would you like to see more of in Lawrence? My boyfriend, independent movie theaters, harpists, and downtown food vendors.
What would you like to see less of in Lawrence? People riding mopeds without helmets and tornado watches.
Do you have any piercings/tattoos? My nose and ears are pierced and I have eight tattoos.
Do you have any fashion influences? Kianna Alarid, Karen O. and anyone who has a lot of fun with their wardrobe.
People say I look like... I've yet to find someone I think I look really similar to ... you tell me?
Tell us a secret: I have a robot arm.
More like this story on Lawrence.com