Well, it's that time of year again. March Madness is upon us. A holiday season around here. And what's the best way to celebrate a holiday? With festive desserts. This cake, of course, is inspired by all things Jayhawk.
Before we get back to basketball, I have a little football story. I took my nephew, Kane, and niece, Lily, to their first KU football game this fall. We attended the Georgia Tech game, and come to think of it, coach Turner Gill probably should have made sure we returned to another game. We'll never know, but we might have been good luck charms. Anyway, on our way home from the game, we walked through the Kansas Union. We took a few minutes to stop and admire the evolution of the Jayhawk on the fourth floor, from its long-legged, humble beginning to the menacing years with the addition of talons to the current smiling, Trajan-font version. We discussed their differences, laughed at the funny ones and picked our favorites.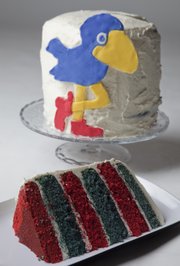 The Jayhawk of 1912 was the unanimous favorite. He may not look menacing, but according to the KU Athletics website, the artist gave him shoes so he could kick opponents.
I've always been partial to this Jayhawk, so it was an easy choice when it came time to make a March-Madness inspired dessert. I mean, look at him. With his long legs like Wilt Chamberlain, he just looks like a basketball player. Plus the shape seemed simple enough to replicate in an edible way.
For this cake, I decided to make a red velvet cake with half of the layers in blue. I like to call it a crimson and blue velvet cake. I used my mom's recipe, which she got years ago from a family friend, who got it from one of her hair-styling clients. It's a family favorite around our house.
Unlike most red velvet recipes, this one doesn't have a cream cheese frosting. You actually start by heating up milk and flour on the stove, and it calls for regular sugar instead of powdered sugar. The result is a light, whipped-cream like not-too-sweet frosting. My mom swears by it when it comes to red velvet cake.
To make this six-layer cake, I made three batches of batter: one red, one blue and one half-red, half-blue. I also made four batches of frosting, which takes eight sticks of butter, to cover the whole thing. But you don't have to make one quite so tall. I was quite ambitious, wanting to use a 9-inch Jayhawk. You can always make a smaller Jayhawk or bake a rectangular cake and lay it on top instead up against the side.
The Jayhawk is made out of fondant. I printed out the image, then cut it out so I could trace it on the fondant. This is the first time I've tried making a Jayhawk, and I was happy with the way it turned out. It's not too complicated, plus you can use this technique with any of the Jayhawks.
If KU isn't your favorite team participating in March Madness, feel free to switch things up, for example, with a Power Cat and a purple velvet cake.
So whether your team wins or loses in the tournament, I think this cake is a winner.
Crimson and Blue Velvet Cake
1/2 cup shortening
1 1/2 cups sugar
2 eggs
1 to 2 ounces red (or blue) food coloring, depending on how deep you want the color
2 teaspoons cocoa
1 teaspoon vanilla
1 cup buttermilk
2 1/4 cups flour
1 teaspoon salt
1 teaspoon vinegar
1 teaspoon baking soda
Cream together shortening, sugar and eggs until light and fluffy. Mix in food coloring, cocoa and vanilla. In a separate bowl, mix together flour and salt. Then alternate adding buttermilk and flour mixture to batter. Add in vinegar and baking soda. Beat for 5 minutes. Bake in 350-degree oven for 20-25 minutes (for 8-inch pans).
Frosting
3 tablespoons flour
1 cup milk
1 cup butter
1 cup sugar
1 teaspoon vanilla
Cook flour and milk until think. Let it cool. Cream together butter and sugar. Add in milk mixture and vanilla. Whip together.
How to make the 1912 Jayhawk:
What you will need:
Printout of Jayhawk
Fondant: white, red, blue and yellow (I bought mine pre-colored, but you can always color your own)
X-acto knife
Scissors
Fondant rolling pin
Print out the image of the Jayhawk you want to trace. I found mine on KUSports.com. They have a Jayhawks through the years photo gallery, which can be found at www2.kusports.com/photos/galleries/2005/sep/08/jayhawks_through_years/. I liked how big the images are. But you can always pick a smaller image.
Cut the image out, so you can trace it.
Roll out white fondant, big enough to fit the Jayhawk on it.
Lay the Jayhawk on the fondant and trace around it with the X-acto knife. I just smoothed out the edges with my finger.
Roll out the red fondant. Use the paper image to trace around the Jayhawk's shoes. For the parts that can't be traced, finish cutting it free-hand, using the image as a guide.
Place the red shoes on the white fondant Jayhawk.
Roll out the yellow fondant. Trace the legs. For the parts that can't be traced, finish cutting it free-hand.
Place the legs on the Jayhawk.
Trace the beak in the yellow. For the parts that can't be traced, finish cutting it free-hand. Make sure to leave the little notch for the eye.
Roll out the blue fondant. Trace the head, body and feathers. For the parts that can't be traced, finish cutting it free-hand. The tricky part is getting the blue to line up with the yellow where the eye goes. Where the blue and yellow meet, I actually laid the blue fondant down over the yellow to use as a guide to trace.
Place the blue on the Jayhawk.
For the eye, I used a letter-O fondant cutter. I made the outside white and the inside blue. But you could trace a button or free hand a circle. It's up to you.
Put the eye on the Jayhawk. And any other finishing touches you'd like to add.
I used a spatula to loosen the Jayhawk off the mat to make sure it didn't stick to it while it was drying.
I let mine dry out for two days, just to make sure it was sturdy enough. Be careful when handling it. The skinny legs are especially fragile.
— For more photos of making the Jayhawk, go to Nikki's blog at www.adventuresinbaking.posterous.com.