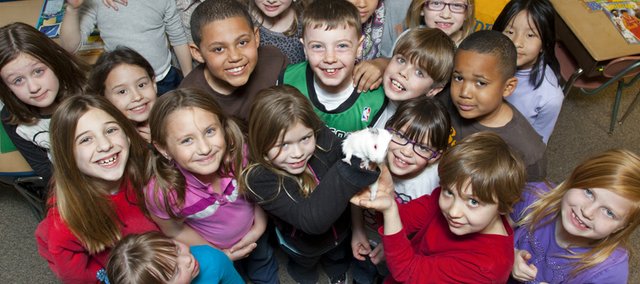 Lawrence classrooms aren't all about textbooks, lectures and worksheets. A few teachers around town keep a different type of learning tool: animals.
On the street
Tank and Stevie the gerbils, Wakarusa Valley School
A pink and a blue plastic ball roll by the feet of fifth-graders working in Kim Orth's classroom. Sometimes one will crash into the legs of a student's chair, or another will hit the closed door. The kids hardly notice anymore, though. If they got distracted, the gerbils inside the balls couldn't stay in the classroom.
"They're really used to it," Orth says.
Students rotate through the duties to care for the gerbils, which stay out in the balls for an hour every day. Students clean the cage, replace the sand inside and feed the animals.
"They take their job very seriously," Orth says.
Max Gottschamer was on gerbil duty recently and explained that he had many pets at home, so he liked this job. Once the students put the animals inside the plastic balls, they're free to roam in the classroom.
"They'll go everywhere," he says.
Snakes, reptiles, amphibians and spiders, Free State High School
Animals line the walls of David Reber's biology class tucked in a far corner of Free State High School. Most are common in Kansas, such as the copperhead snake, black rat snake or common snapper.
"I can increase students' awareness of things in the world that aren't people," Reber says.
The boa at the front of the room obviously is not native to the state, but Reber got it when a pet store was closed by the health department.
This semester Reber isn't teaching a class that directly interacts with the animals, but occasionally he teaches plant and animal biology. And while some people get squeamish about sitting next to snakes in class, many are enthusiastic about the animals.
"It can keep kids interested in school," he says.
Sugar the guinea pig, Deerfield School
Sugar is the newest in a long line of animals that have called Jaime Baggett's second-grade classroom home. Baggett, who has taught for four years at the school, has kept an iguana, hamster, hermit crabs, rats, a rabbit and an anole, a type of lizard, in her room.
"It's a sense of community for the kids," Baggett says. "They take care of it."
Twenty-seven students crowded around Sugar's home, an aquarium filled with shredded paper and a cardboard home. Baggett says Sugar is very low-maintenance, and even the cage's bedding is made by the kids.
"We use homework and other things we don't really need" says Aidan Novo, 7.
Baggett says the animal teaches the kids responsibility because they care for Sugar and take him home during breaks.
"We're here all day, every day, so we might as well have something to love," she says.
Cookies the hamster, Cornelius the corn snake and others, Schwegler School
Cornelius the snake started out about 2 feet long. Now, eight years later, he's longer than kindergartner Kimberly Cantu is tall.
Cantu spends a lot of time in Anna Busby's sixth-grade classroom, where her older brother, Fernando, is a student. Sometimes Fernando gets to see Cornelius eat his meal: a live mouse, which is a demonstration of the food web for class. But seeing the bright orange snake eat an animal doesn't really bother him.
"You just feed him," he says.
Busby says that when the year starts, many students aren't comfortable around the snake, but they get used to it.
"You have to be sensitive to your class," she says. "By the end of the year, most of the kids are open to the snake."
Busby assigns duties to her students, which include caring for Cookies and the fish and crawdads in the aquarium. Busby took her students out to a local creek to catch the fish and crawdads.
"They get to see the cool things in their neighborhood," she says.
Cookies goes home with a student during breaks, but Busby doesn't take the responsibility lightly. Students apply by giving her a resume and a letter from their parents before they're allowed to take Cookies home. It's as much about enjoyment as learning, though.
"This is so much fun," Busby says.
Turtles and fish, Bishop Seabury Academy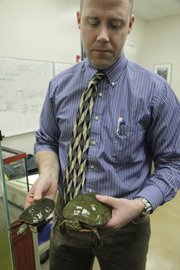 Chris Bryan is careful not to name the animals that find a home in his science classroom at Bishop Seabury. No, a name often means emotional attachment for the kids, which won't go over well when Bryan releases the animals back into the wild.
"I try not to give animals in the classroom names because I don't want them to be seen as pets," he says.
Instead, Bryan keeps two painted turtles and some sunfish for his students to observe and learn about their local environment. If all else fails, they're there to watch when science textbooks just won't keep students' attention.
"It gives them something interesting to pay attention to if they space out," he says.
Students have been enthusiastic about the animals, often coming in to help clean the fish tank. Bryan hopes to make students aware of the wild animals around them, encouraging them to watch birds and squirrels outside. Inside the classroom, students can observe the turtles and fish.
"I can't imagine teaching biology without them," Bryan says.
— Reporter Brenna Hawley can be reached at 832-7217.
More like this story on Lawrence.com