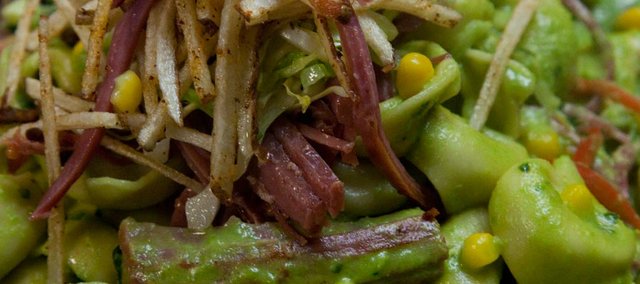 We all know about the green beer, and how that's a festive way to celebrate St. Patrick's Day.
But what about the green food?
We're not talking about anything silly like green eggs and ham or anything overdone for St. Patty's like corned beef and (greenish) cabbage. Instead, we found recipes that have a hint of green without being forced or artificial.
In fact, thanks to green darlings like asparagus, limes, avocados, peas and pesto greens (in this case, arugula and parsley), it's easy to do green right to celebrate the luck of the Irish.
Hot House Cucumber and Mint Salsa
1/2 cup pine nuts (about 4 ounces)
1 hot house cucumber
2 tablespoons mint jelly
2 tablespoons white wine vinegar
1 tablespoon olive oil
1 large pomegranate, seeded
2 tablespoons mint leaves, chopped
1/2 teaspoon minced garlic
Toast pine nuts in a dry skillet over moderate heat until golden. Seed cucumber and cut into 1/4 inch dice. In a bowl, whisk together jelly, vinegar and oil until jelly is broken up into tiny pieces and add remaining salsa ingredients, and toss. Season salsa with salt and pepper.
— Recipe from www.melissas.com
Vegan Tofu Green Goddess Dressing
1/4 cup extra virgin olive oil
1 small avocado
1/4 cup chopped green onions
2 tablespoons fresh lime juice
2 tablespoons light silken tofu
Sea salt and freshly ground black pepper
Combine all ingredients in a blender or food processor. Blend until smooth. Taste and adjust seasoning with salt, pepper and lime juice. Dressing can be covered and chilled for 2 days. Bring to room temperature and stir well before serving.
— Recipe from www.wholefoodsmarket.com
Spicy Cucumber-Avocado Soup
2 whole avocado, firm and ripe
1/2 (5 ounces) hot house cucumber, cut into 1/2 inch pieces
8 ounces plain low-fat yogurt (1 cup)
3 tablespoons chives, chopped
1 teaspoon key lime juice, freshly squeezed
1 teaspoon salt to taste
1/2 teaspoon jalapeño chile, chopped with seeds
1 cup (about 8) ice cubes
Garnish
1/2 medium avocado, diced
1 tablespoon chives, chopped
Peel and pit avocados. Blend all ingredients in a blender until very smooth, about 1 minute.
— Recipe from www.melissas.com.
Split-Pea Soup
3 cups dry split peas
7 cups water or veggie stock
1 bay leaf
1 table spoon dry mustard
2 cups minced onion
5 medium cloves garlic, crushed
3 stalks celery, sliced thin
2 medium carrots , sliced or diced
1 small potato, cut in half lengthwise and sliced thinly
1 tablespoon salt
Lots of fresh-ground black pepper
4 tablespoons red wine or cider vinegar (balsamic would be good, too)
Place split peas, water or stock, bay leaf and dry mustard in a large soup kettle. Bring to a boil, reduce heat to lowest setting and simmer for about 20 minutes, partially covered.
Add onion, garlic, celery, carrots and potato. Partially cover and simmer for an additional 40 minutes, stirring occasionally. Add pepper, vinegar and salt if desired.
Serve topped with fresh tomato and/or minced parsley.
— Recipe from www.dole.com
Arugula-Asparagus Salad with Warm Bacon Citrus Dressing
1 pound arugula leaves, washed and patted dry
1/2 pound asparagus spears, lightly steamed and cut into 1/2-inch pieces
5 smoked bacon strips
2 tablespoons orange juice
1 tablespoon balsamic vinegar
3 tablespoons finely chopped shallots
1/3 teaspoon sea salt (or to taste)
1/4 teaspoon black pepper (or to taste)
Cut arugula greens into 1 1/2-inch lengths and transfer to a large bowl.
In a steamer set over boiling water, steam asparagus, covered, until just crisp-tender, about 1 to 2 minutes. Transfer asparagus to a colander and rinse under cold water to stop cooking. Drain asparagus well.
Cook bacon in a large heavy skillet until golden and crisp, then transfer to a cutting board, reserving fat in skillet. Finely chop bacon.
Whisk together finely chopped shallots, orange juice, balsamic vinegar, salt and pepper in a small bowl, then whisk in 3 tablespoons hot bacon fat. Toss greens with enough warm dressing to coat and sprinkle with bacon. Serve immediately.
— Recipe from www.organicvalley.coop
Linguine with Grilled Shrimp and Arugula-Parsley Pesto
2 cloves garlic
1/4 cup walnuts, toasted
1 cup packed arugula leaves
1 cup packed parsley leaves
6 tablespoons extra-virgin olive oil, plus more for grilling shrimp
2 tablespoons reduced-fat ricotta cheese
2 tablespoons grated Parmigiano-Reggiano cheese
Ground black pepper, to taste
1 pound dried whole-wheat linguine or spaghetti
1 1/2 pounds peeled and deveined medium or large shrimp
1/2 teaspoon sea salt
To make pesto, combine garlic, walnuts, arugula, parsley and olive oil in the bowl of a food processor. Pulse until smooth, scraping down sides of bowl occasionally. Transfer to a large serving bowl and stir in ricotta, Parmigiano-Reggiano and black pepper. Set aside.
Bring a large pot of water to a boil and add linguine. Cook, stirring occasionally, until al dente, following package directions for timing. Drain, reserving some water. Stir 1 tablespoon of the reserved pasta cooking water into the pesto. Add pasta to pesto, stir to combine and cover to keep warm.
While pasta cooks, preheat grill to medium-high heat. Thread shrimp onto skewers, drizzle with oil and season with salt and pepper. Grill shrimp, flipping once, until deep golden brown and cooked through, 3 to 4 minutes. Remove shrimp from skewers and add to pasta and pesto. Toss to combine and serve.
Pistachio Crusted Chicken
3 tablespoons Asian sesame oil
2 tablespoons grated, fresh ginger root
1 tablespoon lemon juice
1 tablespoon honey
2 teaspoons minced garlic
1 teaspoon paprika
4 boneless, skinless chicken breast halves (about 1 pound)
1 cup shelled pistachios, chopped
2 tablespoons cornmeal
1 egg, beaten
Mix sesame oil, ginger, lemon juice, honey, garlic and paprika; toss with chicken, cover and marinate in refrigerator for several hours. Mix pistachios and cornmeal. Dip marinated chicken pieces first in egg, then in pistachio mixture, pressing the nuts on.
Place in baking pan; bake at 350 degrees for 40 minutes or until done. Makes 4 servings.
— Recipe from www.pistachiohealth.com