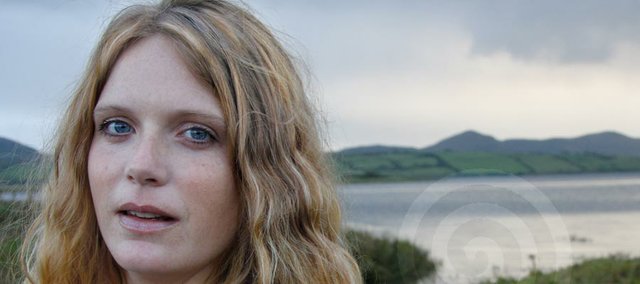 Wednesday, March 16, 2011
Past Event
Wednesday, March 16, 2011, 7:30 p.m.
Lawrence Arts Center, 940 New Hampshire St., Lawrence
Not available / $10 - $16.50
Ashley Davis is a Lawrence born-and-raised Celtic singer who set out to become a country musician until she heard a Connie Dover album. Since then she's embraced her Irish roots, earning her master's degree in traditional Irish music at the University of Limerick. During her time in New York Davis regularly performed for T.J. English and Frank McCourt as well as various heads of state.
Last year, she returned to Lawrence with her husband where she continues to tour and perform both on the coasts and in the Midwest, an area she admits she has neglected. Today, she performs at the Lawrence Arts Center, 940 N.H. St., along with harper Cormac De Barra and guitarist Kelly Wertz for a St. Patrick's Day Eve show.
Davis sat down with Lawrence.com to talk about her influences, misconceptions about Irish music and the meaning of "diddley-aye."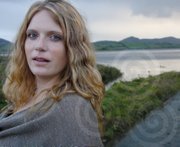 Trevan McGee: Tell us a little about this show you have coming up.
Ashley Davis: I did my first St. Patrick's concert last year here in Lawrence. I hadn't played in Lawrence in probably 15 years or something. I grew up here, but left here when I was 18 and was in Nashville and New York and Ireland during that whole block of time. And so last year was the first time I had come back and actually done a concert and it was really, really successful and it was good for me to that there is a community that really likes Irish music around here. I knew that there was one in Kansas City (Mo.), but I was sort of curious as to what the Kansas side was drawn towards and I brought in the harper that I work with, who also works with Moya Brennan, Cormac De Barra and he's honestly one of the top three in the world at what he does. And to be able to bring him in and talk about his family history and learning the harp and our collaboration on my latest album and play a lot of pieces from that. It was just a well received evening. And so I decided, "Well if I can make it work with my touring schedule I'll always try and do a yearly concert around St. Patrick's time."
Also a goal of mine is to not only spread the music, but to spread the message that St. Patrick's Day isn't just about drinking. And being Irish-American isn't just about drinking. There is a huge history in Kansas and Missouri of Irish settlers coming in and working the land and going through a lot of hardship, so that we could all be where we are today.
This concert will be Cormac, coming in from Dublin for this one. This will be the only tour date he's actually going to be with me on, is the Lawrence one. Kelly Wertz who is Connie Dover's guitar player is with me on this full tour and then a fiddle player who just moved here from Portland who has been playing Irish fiddle since he was a kid, by the name of Marshal Baker will also be on it, so it will be a quartet.
We'll be doing traditional Irish pieces. We'll be doing pieces in Gaelic. Cormac will be doing purely Irish harp tunes. There will be Irish language stuff where Cormac and I speak with each other, so for the couple of people in Lawrence who speak Gaelic, they'll have some of that for the evening. And others can learn a little bit of Irish also. An evening of songs and stories sort of in the traditional way it would have been done around a kitchen or living room in Ireland.
Audio clip
Ashley Davis, "Down By The Sea"
TM: Will you be performing anything from your own catalog?
AD: We're planning on doing the entire album "Down By The Sea." Every track will be covered that night and probably four or five from my album before that and then we have a couple new pieces because not only do I rearrange traditional pieces, but I also write pieces within the style in a contemporary way.
TM: You moved back to Lawrence in October 2010. Are you still able to travel and tour as often as you'd like?
AD: Even easier from here. What I found was –– we came back here because my husband is going to school here –– because I'm now in the center of the country, it's actually easier for me to get to either coast and also what I really had discovered when I came back here was how much I neglected the Midwest. I have not played the Midwest at all and I'd only been doing each coast or abroad. So it (living here) has opened up a whole new musical world for me. Getting to know the Kansas City Irish scene and the regional scene. There's a lot of it. That's exciting for me. Connie Dover was the only person I really knew around this area that was doing this sort of thing. And she had been, as even a teenager, a mentor for me. And so it's fun to come back as her colleague.
TM: Have you gotten to perform with Connie Dover since you moved back?
AD: Not yet, but I would like to make that happen.
TM: Which coast do you spend more time on when you do tour?
AD: East. For Sure. I'll be doing an east coast tour in May. Having lived in New York for the last eight years, that is where I was primarily touring out of, so D.C., Boston, Philly, all of the major Irish strongholds were the obvious places to go when we were building a tour.
But I would like to do something northwest in the fall. I'll be in Ireland over the summer writing the new album, so that's that goal. Because the fiddle player I've been working with is from the Portland area, so he's got some good ideas for some places to go. And I know a lot of the expats from Ireland who are making their living up there too. I'll try and connect with them too. But the San Francisco and L.A. area, I've definitely done.
TM: Do you draw inspiration from Ireland when recording a new album, or is it a convenience thing for you?
AD: I won't actually even be in the studio. I have two dates with Moya Brennan while I'm over there. I'll be performing a little bit. I'll also be in a purely Irish speaking area for two weeks, so I'll be working on my Irish language skills because it's fully immersed. Even your grocer doesn't speak English there, so you have to use your language all day. But it's just time for me to be in a beautiful countryside setting around things I like to write about. It just pulls me away from any duties I have here.
TM: What are some misconceptions about irish music you'd like to clarify?
AD: I think that when people think of Irish music people think of what we call "diddly-aye" stuff. So it's all either drinking songs or it's pipes and fiddles and whistles and that type of thing. And both of those categories are a part of Irish music, there's also a wonderful side of it that has say, the younger generation like myself, who is trying to write music that will someday be fit into the catalog. Or wonderful collections of old songs that come from every political period of Ireland. Wonderful, say for example, code songs when the Irish weren't allowed to practice catholicism and so there's gorgeous love songs that seem like they're written to a lover or sweetheart, but they're actually about the catholic church.
Wonderful catalogs of Gaelic songs that are absolutely beautiful. All of these different Irish instruments have their own traditions and they're own repertoire and there are huge catalogs of tunes, so it's actually quite a deep genre with just amazing tradition. The tradition is sort of like Jazz. The stories can be traced not only through the songs, but the instruments and the singers that you would go to collect this music from, which is what I did for my masters over there. I traveled around the countryside and collected songs from older people who would have had the songs directly passed down to them, they wouldn't have ever learned them from a book or sheet music or something. It's a very pure music that's still very based on the aural tradition of learning music by ear.
TM: You mentioned "diddley-aye." What is that?
AD: It's the equivalent of scatting in Irish music. It's people who are singing and imitating say fiddle or pipes or something on jigs and reels.
TM: Can you pinpoint when you became attached to Irish music so strongly?
AD: I would say it was the tonality of the female voices more than anything. They had this ethereal quality to their voice that Connie (Dover) obviously has and Moya Brennan and people like that and the phrasing. And it fit my voice a lot better than country did and so I had that going for me and when I started to actually write my own music, it all really fit together quite well for me and became a much more natural choice for me.
There's a big belief in Ireland of something called blood memory. It's when a family trait will go to sleep for generations and then it will come out really dominantly. I really feel like my voice coming out as a Lawrence kid singing like an Irish person falls in that category.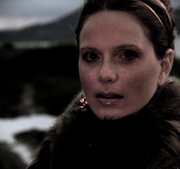 TM: Are there any other musical influences that affect you now?
AD: I was really influenced by '60s folk music growing up. Poeple like Joan Baez and Judy Collins. The female folk scene and Peter, Paul And Mary. Their approach to music and their songwriting and their collecting of ballads is very similar to the Irish scene.
These days spend so much time keeping current on what is going on. I listen to a lot of world music artists because I like to try and bring in other cultural influences to my writing. This first album was definitely more world music. The second album was very straight up contemporary Celtic. The third one I'm hoping to bring more world instruments back into it. My biggest influence would be Loreena McKennitt. She's a wonderful world music artist from Canada. She's huge influence on me.
TM: So your performing here on the 16. What are you doing on the 17?
AD: I usually take the day off and enjoy the pageantry of the day, but I have taken a gig. I'm going to be at Brown's the famous Irish diner and they've asked me to play a set in the afternoon. And then in the evening I hope to get back and look at this opening for the Irish literature collection that KU just got. St. Patrick's day will not be a day of rest for me.