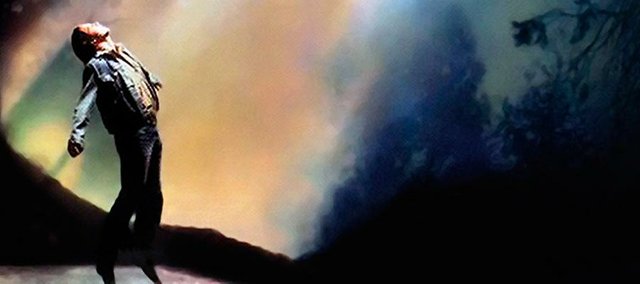 Originally published March 18, 2011 at midnight, updated March 18, 2011 at midnight
This weekend, the UFO Reykawvik Summit 2011 brings authors, investigators, and researchers to Liberty Hall, 642 Mass. St., to discuss alien abduction and ongoing UFO sightings. Coincidentally, while this three-day conference visits our town, the new alien comedy "Paul," starring Simon Pegg and Nick Frost as two British nerds who discover an alien in Area 51, opens in theaters. The alien-invasion flick "Battle: Los Angeles" also opened last weekend and in June, J.J. Abrams releases the highly anticipated "Super 8," which deals with an alien presence found in 1979 Ohio. There are not a huge amount of films that deal seriously with the matter of extra-terrestrials and UFOs, however, but this list compiles some of the best.
Honorable mentions: The War of the Worlds (1953 and 2005), Flight of the Navigator (1986), and Knowing (2009).
Fire in the Sky (1993)
This low-budget thriller concentrates on the "true" story of a group of loggers in Arizona who experienced contact with a UFO. One of the men (D.B. Sweeney) was hit by a blinding light and disappeared — only to show up five days later, claiming to have been abducted by aliens. The story mostly focuses on his experience coming back home, the police investigation (all the men passed multiple lie detector tests), and the guilt of one of his friends (Robert Patrick) from having left him there. Even though some of the dialogue isn't the best and it's overbearingly earnest, the alien abduction scenes are well done and he film is a modest success.
Contact (1997)
Robert Zemeckis adapted this Carl Sagan novel for the screen, casting Jodie Foster as a scientist who finds a repeating series of prime numbers and a video of Hitler being broadcast from 26 light years away in space. It turns out to also contain plans for a machine that can carry one human visitor to who knows where, and Foster is selected to be the one to make contact with the unidentified beings who sent them. Aside from depicting that contact in some sort of dreamlike hallucination state, the film spends a lot of time on the issue of science vs. faith. Mathew McConaughey is the religious friend who decries Foster's lack of faith and Jake Busey is a crazed fanatic with destructive plans. In the end, Foster's character is saddled with the unwavering faith that her experience really happened and the tables are turned.
E.T.: The Extra-Terrestrial (1982)
What is there to say about this movie? Yes, it's a about a cute little alien stranded on Earth who befriends a young boy (Henry Thomas), but it also has some scary undertones of sinister governmental control. Director Steven Spielberg engages the heart(light) and asks the audience to sympathize with poor E.T. rather than wanting him poked and prodded and studied by scientists. It may not have any deep or 'serious' message, but by sticking with a view of the story through a child's eyes, it has plenty of emotional connection. If that's not an effective way to convince you of the possibility of alien life, I don't know what is.
The Day the Earth Stood Still (1951)
An alien named Klaatu (Micheal Rennie) lands a UFO in Washington, D.C. and disappears within the city while his giant robot stands guard. This smart sci-fi film spends most of its time wrestling with mankind's penchant for war and violence. Klaatu issues a warning that if the world leaders do not terminate their destructive tendencies, "Planet Earth will be eliminated." His experiences with a World War II widow (Patricia Neal) and her son give him hope, but the military keeps giving him trouble. "The Day the Earth Stood Still" spends most of its time grappling with the big picture of our human footprint and not special effects, and remains a thoughtful classic. A Keanu Reeves remake in 2008 did nothing to complement the original's legacy.
Close Encounters of the Third Kind (1977)
Steven Spielberg closes out the list because "Close Encounters" still contains the most convincing alien contact ever put to celluloid. The year was 1977, and the visual effects and models that created the film's massive flying saucers with rounds of glowing lights are still impressive. Apart from the visuals, Spielberg puts together an even-handed account of one man's journey (Richard Dreyfuss) to a mysterious UFO landing site, accompanied by the parallel story of a French scientist (François Truffaut) who is putting the mystery of recent unidentified sightings together to build a peaceful welcoming committee for the aliens. The writer/director's peaceful version of alien contact is a welcome change from the hostile UFO assault movies that came before it, and it has something that other UFO films lack — a soothing resolution.
More like this story on Lawrence.com