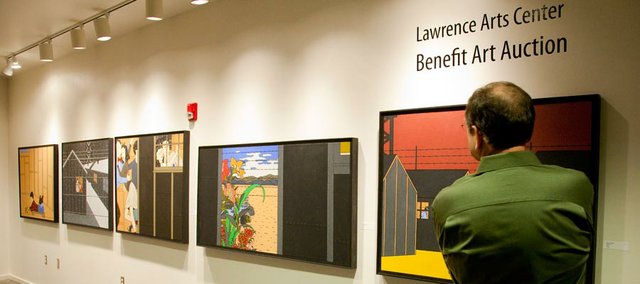 Spring has sprung, and with it comes the 31st annual Lawrence Art Auction at the Lawrence Arts Center, 940 N.H. As the arts center's primary source of funding for its exhibitions program, the auction features a silent auction that culminates with a full-fledged auction April 9. For those eager to get their hands on a local masterpiece, it's possible now through the night of the event to bid on any of the approximately 150 pieces featured in the auction.
Ben Ahlvers, exhibitions director for the center, says the auction, which features photographs, paintings, ceramics, jewelry, drawings, sculptures and more, is important to both the local arts community and the center. Artists featured will be from the area, regionally based, and from across the nation. Additionally, artists have the option to donate the entirety of the winning bid to the arts center or keep 25 percent of the bid for theselves.
"This is huge," Ahlvers says. "We're putting a lot of eggs into this basket. Historically, the community has stepped up and attended this and purchased art. It's a lot of logistical work, but it's worth it."
Ahlvers says his goal for the show this year is to sell each of the 150 available pieces at its market value or higher.
"It can be done, I think," he says. "This is not a traditional auction, in that people are going for deals and steals. This is a benefit auction, so it's kind of a mixed bag. Last year we reached 82 percent of the retail value of the artwork, which was an improvement, and I want to push that."
During the live auction, arts center representatives will bring eight original Roger Shimomura paintings on stage. The high bidder will win his or her choice of one of these eight paintings.
"They're all $12,000 paintings. What we're hoping for is, in the live auction, we'll have bidders bidding, and no one will know who's bidding on what piece. It's about choice — they're all the same value, so there's no discrepancies there. Hopefully we'll get as close to, or higher, to the retail value as possible," Ahlvers says.
Ahlvers says he's excited about the event, which has been a major undertaking to put together. He says now, more than in some past years, this auction is extremely important.
"I'm excited to finally see it happen and to hopefully raise enough money to support this program for another year," he says. "Especially with the economic situation for everybody, any little thing we can do — we the arts center, we artists, we collectors — anything we can do to help programs like this is welcome."