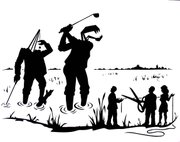 David Loewenstein wants viewers of his upcoming Final Friday exhibit, "Them," to have a series of reactions. He doesn't, however, want anyone to necessarily have the experience the same way he does.
"I'm really looking forward to sharing this new body of work with people," he says. "I don't have any particular expectations on how people are going to view the stuff, but I hope it starts some good conversations."
Loewenstein stresses that viewers of his art could very well pull a range of thoughts feelings from the works he'll have on display at the Invisible Hand Gallery, 801 1/2 Mass St. He says, though, for him there are obvious reasons why the exhibit is titled "Them."
"I have my own ideas," he says. "I am responding to this notion that we hear of, and that we sort of grow up with, that there's a notion of 'us and them,' Them is usually folks we're suspect of, who we don't want around. I've got more feelings about it than that, but the intent of the show is to, I guess, have viewers ask themselves that question: 'Who are "Them," and do "Them" really differ from us?' "
Loewenstein, who, among other forms of art, is known locally for his outdoor murals, says the pieces at this show are a departure from his usual work. He says he will have around 14 works on display.
"Most of the works in this show are cut paper. I'm calling them tableaus. It's black paper, so they're basically sillouettes, and there's three or four large installations like that, like eight by 10 feet. Along with those will be some stencil prints, based on the tableaus, or related to the theme of the show. For me, having this show was a way to explore a new direction in the work I've been making."