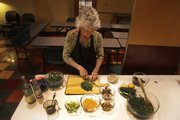 In the blink of an eye it'll be easy to get your greens.
The Downtown Lawrence Farmers' Market opens this year at 7 a.m. April 9 at the public parking lot on New Hampshire between Eighth and Ninth streets. Among the sure-fire goods there from the start will be plentiful greens — from delicate baby lettuces to spicy arugula and sturdy kale, all begging you for a spot in your salad bowl.
It's the perfect chance to elevate your salad from iceberg to the complex world of leafy vegetables out there, says Rick Martin, executive chef at Free State Brewing Company and a lifelong lover of kale. (He had toasted kale and peanut butter sandwiches as a child. Yes, it's true.)
"It's a great time. People that plant hoop houses have greens coming out," Martin says. "I'm kind of excited for the Farmers' Market to start, to see all of it."
If you didn't grow up with kale anywhere near your sandwich spread, it's not as hard to enter the world of those greener pastures, he says. You could try to work your way up — stepping up the green scale from white (iceberg) to dark green (dinosaur kale) in increments. Or, as Martin suggests, try any salad green you might be unfamiliar with or have, ahem, avoided, like kale, arugula, spinach, baby bok choy, tatsoi, in as direct a way as possible.
"Go out and buy a green, like arugula, and eat it with simply a little bit of olive oil and sea salt and cracked pepper and taste it that way," he says. "Then you can add other ingredients from there. If you want to throw on some beets and goat cheese, fantastic, but enjoy it for what it is."
This tactic falls under what Martin calls his main food philosophy — respecting each ingredient.
"I think too many times people try to make a salad into one common idea that they have," Martin says. "And that's great for something like romaine to be the feature in a Caesar salad, but it's not something that you could just insert kale into. And so I always try to tell people, if you have kale, make a kale salad and respect that ingredient the best you can.
"Don't try to contort a specific salad green into something that it's not."
So, what makes a kale salad different than a Caesar salad? Well, first off, if it's raw, the kale has to be tamed. Hilary Kass, owner of the gluten-free purveyor Amazing Grains, recently taught a class called "Eat Your Greens!" at The Merc, 901 S. Iowa, in which a kale salad was featured. The salad she chose softens the hearty leaf's texture with a marinade.
"It uses a dressing that's great to put on raw things because it has tamari and lemon juice, which have salt and acidity in them, and that starts to break down the greens," she says. "We often think of greens being very tough and hard, which they can be, but when you apply that type of dressing to them, it starts break down."
Another tip for tough veggies? Cut them small. A small cut will make it easier to both chew and digest, says Kass.
"I encourage people to slice things small for a salad and on the diagonal because then you get a larger surface area that's cut, and I think it's just easier to chew and I think it looks nice," she says. "Just pick any new vegetable, or any vegetable that they see that looks really lovely, like, say, things like baby bok choy are so nice, and you often think that they have to be cooked, but they don't."
Once you've got your greens figured out, Kass suggests that to get out of the traditional garden salad mode of tomatoes, carrots, cheese, you can go a little nuts with foods that have staying power. She recommends giving a try to pumpkin, chia and flax seeds — all high in omega-3 fatty acids — as well as to sprouts, beans and avocado. Another easy addition? Leftover meat, especially chicken. Martin says he loves adding fresh herbs like parsley to salads, as well as dried fruits like figs, dates, cherries and cranberries.
See? Easy.
Recipes
Marinated Kale Salad
1 cup shiitake mushrooms
1/4 cup lemon juice
1/4 cup hijiki seaweed or another type of seaweed
1/4 cup tamari
4 cups shredded kale — young small leaves if available
1 cup carrots, julienne
1 cup cucumbers, julienne (remove large seeds)
1/2 cup sesame seeds
Marinade:
1/2 cup olive oil
1/3 cup fresh orange juice
2 1/2 tablespoons tamari
2 1/2 tablespoons rice vinegar
1/2 tablespoons sesame oil (not toasted)
1/2 jalapeno pepper, minced
1/4 teaspoon salt
Wipe mushrooms and discard stems. Slice very thin and marinate in lemon juice and tamari for 2 hours. Drain.
Place hijiki in a jar cover with warm water and soak for 2 hours. Drain. Chop.
In a large bowl toss the kale, carrots, cucumber with the mushrooms and hijiki.
To make marinade blend all the ingredients together with a whisk until very well-combined. Or place in a jar and shake gently for a few minutes. Add this to the vegetables and toss allowing the marinade to coat every vegetable. Serve and sprinkle with sesame seeds.
— Recipe from Hilary Kass, adapted from "I Am Grateful" by T Engelhart.
Basic Vinaigrette
1 tablespoon smooth dijon mustard

1/4 teaspoon fine sea salt
1/2 lemon, juiced
2 teaspoon honey
1/4 cup white wine vinegar
2/3 cup olive oil
Cracked pepper
Place all ingredients in a measuring cup just wide enough to fit an immersion blender. Pulse blender for a few seconds until emulsified. Store in refrigerator for a week. Serve at room temp.
— Recipe from Rick Martin, executive chef at Free State Brewing Co.
Chile Cucumber Salad
4 hot house cucumbers (or regular cucumbers) cut in half, seeded and sliced
1/2 basket cherry tomatoes halved
1 tablespoon baby dill chopped
1 tablespoon cilantro
Vinaigrette
1/4 cup lemon juice
1/4 cup rice wine vinegar
1/2 cup olive oil
Rainbow peppercorn pepper (or regular pepper)
Chile seasoning
Whisk olive oil into lemon juice, rice wine vinegar and season to taste with pepper and chile seasoning. Mix together cucumbers, cherry tomatoes, dill and cilantro. Mix with dressing and let stand 5 minutes before serving.
— Recipe from www.melissas.com.
Avocado Fruit Salad
Dressing
1 1/2 tablespoons olive oil
2 tablespoons raspberry vinegar
1 teaspoon grated lime peel
1 tablespoon fresh lime juice
1 tablespoon fresh chopped basil leaves
1/2 teaspoon dry mustard
1/4 teaspoon salt
1/4 teaspoon pepper
Salad
1 10-ounce package mixed baby greens
4 kiwi, peeled and sliced in half rounds
4 grapefruit
2 cups sliced strawberries
2 star fruits, sliced
1/2 ripe avocado, seeded and peeled (1/2 sliced into 8 portions, 1/2-inch cubed)
To make dressing: In a small bowl, whisk together remaining ingredients, set aside.
To make salad: In a large salad bowl, combine baby greens, kiwi, grapefruit, strawberries and star fruit. Pour on dressing and toss to coat. Top with avocado slices.
— Recipes from www.fruitsandveggiesmatter.gov.
Mediterranean Crunch Salad
1 (15-ounce) can no salt-added garbanzo beans
1 cup chopped broccoli florets
1 cup grape tomatoes, halved
1 cup finely sliced kale
1/2 cup finely chopped red onion
2 tablespoons finely chopped kalamata olives
3 tablespoons red wine vinegar
1 small garlic clove, minced
1 tablespoon chopped fresh parsley
1 teaspoon chopped fresh thyme
Combine all ingredients in a large bowl. Chill at least 1 hour before serving.
— Recipe from www.wholefoodsmarket.com.
Radicchio, Fennel & Pear Salad
4 cups spring salad greens
1 head radicchio, cored, leaves torn into bite-size pieces
1 bulb fennel, halved and thinly sliced
2 bosc or Asian pears, cored and chopped
1/4 cup honey mustard dressing or other salad dressing
Put all ingredients into a large bowl, toss gently to combine and serve.
— Recipe from www.wholefoodsmarket.com.
Endive and Beet Salad with Walnut-Tarragon Vinaigrette
2 tablespoons tarragon vinegar
2 tablespoons walnut oil
1 clove garlic, finely chopped
Salt and pepper to taste
4 Belgian endives, cut into bite-size pieces
2 to 3 cooked beets, peeled and sliced
2 tablespoons chopped walnuts
In a large bowl, whisk together vinegar, oil, garlic, salt and pepper to make a dressing. Transfer half to a second large bowl.
Toss endive with dressing in one bowl and beets in the second bowl. Arrange endive on individual plates, spoon beets over the top, garnish with walnuts and serve.
— Recipe from www.wholefoodsmarket.com.