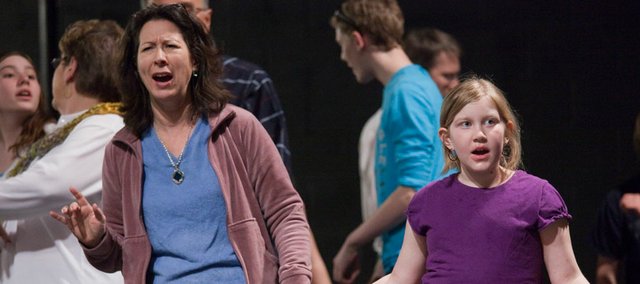 Wednesday, March 30, 2011
Thursday night's production of "The Music Man" at the Lawrence Arts Center may as well be called "All In The Family" for all of the familial units that are a part of the cast. Brothers will perform with sisters, husbands with wives, fathers with their daughters, mothers with their sons, and grandparents with grandchildren.
Casting families is nothing new for director Ric Averill.
"Ric has always encouraged families to be together in his productions," says Becky O'Keefe, who plays Ethel Toffelmier, one of the "pick-a-little" ladies, and is performing with her daughter, Kate, in the show.
Travis Berkley, who plays Oliver Hix and is a member of the barbershop quartet, is in the production with his son, Ethan, a member of the boys band.
"This is the second show that I've been in with Ethan," Berkley says. "We were also in "Oliver!" together. I have two older kids, Kyle and Nicole, that I have also been in shows with."
O'Keefe says she loves to be in theater productions with her daughter.
"I love how much fun she is having and how much she is learning while she is there," she says.
That sentiment is echoed by the other family members performing in the show, such as Carol Dobbins, who is performing with her son, Eric.
Jill Jess, who is also sharing the stage with her children, Aidan and Alida Cahir, has been performing with Averill her entire life.
"I was in a show a long time ago, back at the old Arts Center," Jess says. "Ric is the first director I've ever had ... And now I get to do a show with my children. It's just a great experience."
Keeping families together for productions has been an interest of Averill's for more than 20 years, ever since a trip he took to the Soviet Union in 1990.
"There was a woman I worked with there who was really into it, and I came away from there wanting to do more with families," says Averill, who knew he wouldn't have too much trouble doing that in Lawrence. "There is such a depth of talent here."
In addition to the veteran talent that will occupy the stage are a couple of newcomers to the Lawrence theatrical scene. Sherry and Carol Schaub will be performing with their granddaughter, Rebecca Burmingham.
"It is very important to both of us that we are involved in the lives of our grandchildren," Carol Schaub says. "And not just as spectators."
So when the Schaubs discovered that Averill was looking to complete his barbershop quartet, Carol's husband, Sherry, who sings in a Southern gospel quartet, auditioned. "At the first rehearsal, he called me at home and said, 'They have a role for you too!' " Carol says. "I went, and the rest is history."
Also making their Lawrence theatrical debut are Tony and Emma Silvestri.
"I was in a college production of 'H.M.S. Pinafore' at UNLV, but other than singing in choirs, I haven't sung too much on stage," says Silvestri, who works as a lecturer in Washburn University's history department.
Emma, who plays Mayor Shinn's younger daughter, Gracie, admits to being the driving force behind her father's participation in the show.
"Whenever I hear that there are auditions, I am, like, 'Dad! I want to go down there!' " she says.
Just as with the Schaubs, when Silvestri discovered that Averill needed men for his barbershop quartet, he did not want to miss the opportunity to work with his daughter.
"It is just one more of the wonderful things that families can do together in Lawrence," says Silvestri.