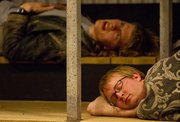 One of the 20th century's most influential playwrights, innovative German author Bertolt Brecht had a profound impact on theatrical production and on theater as a medium for addressing social issues. Yet it's been more than two decades since Kansas University Theatre has tackled one of his plays.
According to Mechele Leon, artistic director of the University Theatre, this could just boil down to the fact that putting on a Brecht play is an exceptional undertaking.
"Brecht is the ultimate challenge," Leon says. "As a director, there's nothing more challenging than Brecht."
But Leon is taking on the task next week, as director of the theater group's rendition of Brecht's 1920s play, "Man Equals Man." The play tells the story of a man who loses his identity while going off to fight a war and the complications that ensue.
Those who are looking to get wrapped up in an epic war drama might find themselves in the wrong place, however. "Man Equals Man" is a comedy, and doesn't aim to completely engross anyone with its storyline.
"One of the main points is to draw the audience in, but give them a point where they step back and say, 'Hey, I'm watching a play,' " says Mike Claman, who plays Sgt. Fairchild in the production.
This is all part of Brecht's approach to performance, known as "epic theatre." Brecht — a dedicated Marxist who was critical of war and capitalism — addressed social and political issues with his works, but aimed to provoke rational critique rather than emotional involvement from his audiences. He achieved this by constantly reminding his viewers that what they were watching was not real, but merely a recreation of a potentially real situation.
"He's deadly serious about what he's saying, but he doesn't want his audiences to have to believe in it," Leon says.
Leon plans to incorporate this Brechtian approach into her production of "Man Equals Man." During the performance, action will be comically unrealistic, the actors and actresses will change costumes onstage, and will frequently address the audience. All of this serves to point the focus to the themes being discussed, not the story being told.
"My goal is to open up the possibility of thinking about our current situation," Leon says. "I want to allow people to experience the way in which theater can invite and foster criticism of the social and political realities around us."
Though Brecht began work on "Man Equals Man" nearly a century ago, some of the major talking points of his works — war and economy — are still highly debatable subjects. Elahe Marjovi, costume designer for "Man Equals Man," says the play has universal relevance.
"The play is called 'Man Equals Man,' but the message we are trying to send is 'war equals war,' " Marjovi says. "It all has the same effects wherever it is."
"Man Equals Man" will show in the smaller of Murphy Hall's two theaters, the William Inge Memorial Theatre, which only seats about 100 people. Leon says the University Theatre tends to use the Inge for more experimental, avant-garde plays that might not always appeal to the general public.
In addition to the play's performance, technical and visual elements of the production will also pay homage to the work's creator. Though Brecht's use of projectors was seen as cutting edge around the time the play came out, they've since become commonplace in theater. Instead, Leon will use six monitors around the set to display images throughout the performance. Keeping in mind that the use of music was always an important aspect of a Brecht production, Leon enlisted University Theatre staff musician Ryan McCall to compose "throbbing rock music" for "Man Equals Man." For the costumes, Marjovi incorporated scraps of clothing resembling various countries' military uniforms, at once giving the characters a comedic, haphazard appearance while adding to the universality of the play.
Leon began "Man Equals Man" rehearsals with crash-course discussions on the aspects of Brechtian theater. Still, some cast members admit that adopting Brecht's style has been difficult. Ryan Lueders, who plays lead character Galy Gay, says the unorthodox nature of "Man Equals Man" puts pressure on the performers to be on top of their game.
"It has some very entertaining moments, but there can also be some confusing moments if we don't do our jobs," Lueders says.
Chris Teters, who plays soldier Uriah Shelly in the play, says he expects some initial skepticism from audiences. He says it's important for people to come to the performances with an open mind and take the play for what it is.
Performances of Man "Equals Man" are scheduled for 7:30 p.m. on April 7-9 and April 13-16, and at 2:30 p.m. on April 10 at the William Inge Memorial Theatre inside Murphy Hall, 1530 Naismith Drive. Tickets for the general public are $15, and $10 for KU students.