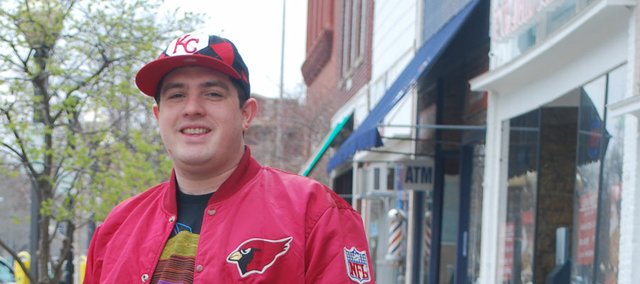 Name: Travis Mitchell
Age: 26
Sign: Aries
Occupation: Social Worker/DJ
Relationship Status: Single
Hometown: Topeka
Time in Lawrence: On and off for about eight years.
What were you doing when you were scouted? Eating lunch at Aimee's Coffeehouse, 1025 Mass.
How would you describe your style? Hip-hop Utilitarian.
What are your current favorite fashion trends? I like sundresses on girls in the springtime. I don't really pay attention to what other guys are wearing, though.
What are your least favorite fashion trends? I say, if you look like you are Amish and you are not, you probably aren't doing too good.
What would you like to see more of in Lawrence? Good barbeque joints and restaurants with soul food.
What would you like to see less of in Lawrence? Pretentious people.
Do you have any fashion influences? Kenny Powers and De La Soul.
People say I look like… Tom Cruise, dead ringer. I think it has something to do with my religious traces.
Tell us a Secret: I think Helix is better than any American metal group of all times.