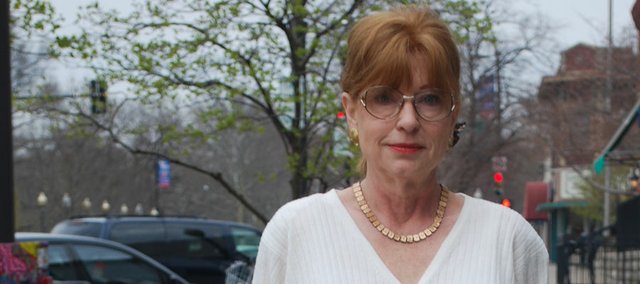 Name: Eileen Strong
Age: 62
Sign: Capricorn
Occupation: Retired teacher, chef/business owner — Aimee's Coffeehouse and Strong's Antiques, 1025 Mass.
Relationship Status: Married
Hometown: Born in Kansas City, Mo. and lived in Lenexa.
Time in Lawrence: 25 years
What were you doing when you were scouted? Working downtown at Aimee's.
How would you describe your style? Personal and individual — I just like what I like. I don't give myself too many restrictions, and my style varies depending on mood when I wake up each morning.
What are your current favorite fashion trends? Pencil skirts, straight-leg pants, sundresses, and boots — if I'm not wearing boots I'm usually wearing high-heels.
What are your least favorite fashion trends? Skin-tight jeans on men and baggy clothing on women — I like clothing with more feminine shapes.
What would you like to see more of in Lawrence? Events where you can get really dressed up. I have cocktail dresses just withering away in my closet!
What would you like to see less of in Lawrence? Less conformity. More individuality.
Do you have any fashion influences? I still love the classics — Chanel and Dior. I'm drawn toward more tailored but modern looks, like clothing in stores like White House | Black Market and Chico's.
People say I look like… No one really, just me!
Tell us a Secret: I love working with my son so much — I work for free!