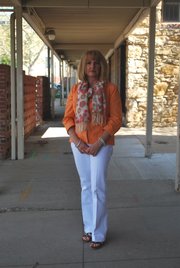 Name: Donna Steinman        
Age: 55
Sign: Aries
Relationship Status: Married
Hometown: Tahlequah, Okla.
Time in Lawrence: 1.5 years
Occupation: Designer and owner of BIAO Designs, 825 Mass.
What were you doing when scouted? Working at my shop.
How would you describe your style? My style is traditional. I like classic cuts and feminine clothing.
What are your current favorite fashion trends? I love blue jeans, fun accessories and bright colors in the spring and summer.
What are your least favorite fashion trends? For both men and women, I don't like low-cut jeans that reveal your underwear.
What would you like to see more of in Lawrence? I'd like to see more ladies dress shops, like Saffee's and Chico's.
What would you like to see less of in Lawrence? Tattoos!
Do you have any piercing or tattoos? I have pierced ears.
Do you have any fashion influences? Not really, I mostly pick out whatever fits me and catches my eye — although I do follow what Chico's shows. I practically live at Chico's!
People say I look like: When I was younger, people used to tell me I looked like Princess Diana.
Tell us a secret: I have to hide my chocolate from my husband per his request — otherwise he just eats and eats until it's gone!