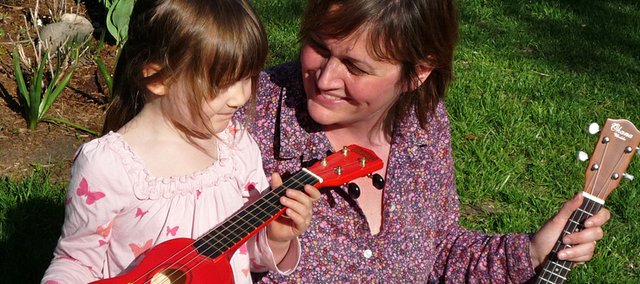 Jeanie Wells may have had butterflies at her first ever gig as part of the bluegrass band MAW, but they floated away in a heartbeat the second she learned what her young daughter thought about the show.
"My daughter was in first grade and I remember she had to do this journal entry for class every day and she drew a picture of our band and wrote something like, 'Last night was my mom's first gig,'" says Wells of Adelaine, now 10. "I think she was secretly kind of proud to tell her friends her mom was in a band."
In fact, there are three mamas in MAW, one of several musical acts in the area with musical mothers.
Danielle Schnebelen, bass player and singer with Kansas City's Trampled Under Foot, just joined that club a few weeks ago when she gave birth to her son Elijah. He turns one month old on Mother's Day and Schnebelen will be celebrating by taking him on the road for a multi-gig trip to Florida. He's already been to his first show, and thankfully, he seems to like the music scene.
"We played the Parkville Spring Jam last Saturday. It was a beautiful night and we had him all bundled up," says Schnebelen, who relies on her mother and boyfriend to watch Elijah while she plays. "He was literally sleeping throughout the entire thing and I think it was because being in the womb, that music actually helped him sleep. I know that our festivals, he's going to be pretty easy to take care of."
Rock 'n' roll calendar
For the rock mom, many times the biggest difficulty isn't going from rocker to "Mommy" in the blink of an eye, it's the scheduling. Lining up a sitter on a performance night or planning a band practice when every member can attend can get a little bit hairy. For the moms in MAW, things can get especially strange with a regular event like practice because not only do the moms have to think of the kids and the other band members, but they also have to think of their husbands, who play in The Midday Ramblers together.
"We work around school, we work around work and we work around band schedules. School, work and band," says Katie Conrad, who along with Julie Schwarting make up the other moms of MAW with Wells. "There's kind of an understanding in the band that you're working around family and with family. That becomes part of the conversation.
"The convenient thing about having all of the spouses in the same band is that moms baby-sit when the dads are playing in the band and the moms are baby-sitting when the dads are playing in the band."
Two years ago on Mother's Day weekend, those dads gave the moms of MAW one heck of a present — an entire weekend for the women to record their studio album, "Advice for the Young and Foolish." Though MAW isn't a full-time job, Schwarting says she thinks everyone in the family benefits from the moms' jam time.
"In the long run, I don't think it's a bad thing," say Schwarting, who has two children, ages 8 and 9. "My parents were involved in other things besides us, and in the long run, I think that it's important to see that they see you that have outside interests."
Meanwhile, Lawrence singer Kelley Hunt says that it's also important for musicians to have outside interests, and there's no better example of that than the ultimate interest — children. She says that when she had her son, Adrian, she became a better singer and songwriter.
"His being born and being a mom, it really just added to that element so much and just formed it and enriched it in a way that I actually didn't expect. Because I think it made me a better writer and continues to do so," Hunt says. "For people in general, no matter what your profession is, it's been my experience that it just helps you have a better, more wide ranging experience in the world. It's like you're a more balanced person in a way because it's not all about you. And that's perfect. That's as it should be."
Kids who rock
What's it like to be the child of one of these rock moms? Adrian Hunt is now 26 and though not a professional musician, he is musical and says that having a professional musician for a mother was inspiring.
"It was unique, definitely. It inspires a lot of confidence. I mean, she can get up in front of a huge crowd of people and just totally be herself," Adrian Hunt says. "It was really neat. She's made a lot of people happy through her music and her performances and everything and so that was always really good to see."
Kelley Hunt says that her personal philosophy was not to make her profession central to Adrian's life, and only when he became a teen did he really know what exactly she did for a living.
"When he was little, I just made sure that I was there when he went to school in the morning and I was there when he got home. And I did everything I could to make his life all about him and not all about me and he didn't really understand what it is that I did for a long time," says Hunt, who did a lot of her non-performance work while he was in school. "I tried to expose him all the best part of what that is and I'm just grateful that I have him."
Truckstop Honeymoon's Katie Euliss isn't exactly sure what her four kids are going to choose for their lives, but as they tour Europe with her this month, she says she hopes they understand why she does what she does, even if they end up going in a totally different direction.
"Raising them in the artistic community that we move about in globally has certainly opened their eyes to a greater reality," Euliss says. "I'm trying to save them from having get day jobs as adults. I keep telling them music is their ticket and to keep playing. Our experience might make them crave that sort of lifestyle. What ever makes them happy is ultimately what we want them to discover."