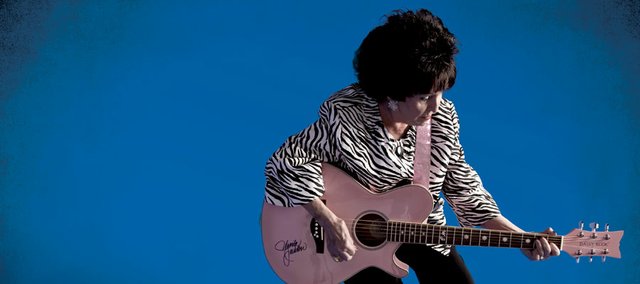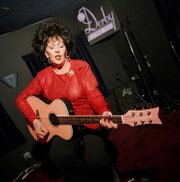 At 73 years old, Wanda Jackson is enjoying the kind of resurgence most people only dream of. Often referred to as "The Queen of Rockabilly," she first began performing rockabilly at the behest of her father and Elvis Presley. Their encouragement proved fruitful as Jackson attacked the genre with the kind of zeal and flamboyance of her male counterparts, creating classics such as "Hard Headed Woman," "Fujiyama Mama" and "Let's Have a Party."
When rockabilly's popularity began to wane, Jackson shifted back to country music, which she had performed at the start of her career. In 1971 she was born-again and began recording and performing gospel music.
In recent years, her music has found a new audience with members of the rockabilly scene and fans of early rock 'n' roll, as many young music fans discovered her work for the first time. This culminated in her most recent album, "The Party's Not Over," which was released in January. Produced by Jack White and released on his Third Man label, the album featured Jackson performing both contemporary and classic covers as well as originals, while White provided lead guitar work.
Since then, Jackson has been on a seemingly endless tour, which will bring her through Lawrence next week for a show at The Granada, 737 Mass. Jackson recently spoke to me from her home in Oklahoma City about the tour, working with White and her fascination with the new rockabilly movement.
Trevan McGee: How is the tour going?
Wanda Jackson: I'm on a series of tours, it seems. I guess maybe that nowadays what they call "a tour," but mine has been a 55-year tour, in that case.
We just got in from 10 days (on the road) and I'm home for two and then I'm out for another eight. So that doesn't give me much time to get my nails and hair and stuff like that done, but the tours are going wonderful. Lot of changes. Lot of very good differences in my work thanks to Jack White and "The Party Ain't Over" album. I'm working larger venues — more theaters, and I'm having sold-out houses. This last tour, I was out 10 days, probably eight working days, and I had two full houses and the rest were sold out. It kind of blows your mind when you're coming from where I've been.
TM: How do the audiences compare now to when you last toured?
WJ: It's just as different as everything else. I've had a younger audience now for about 20 years, through the rockabilly craze. That kind of rockabilly revival that started about 20 years ago. It started in Europe and then in 1995, it began happening for me again here in America. Even at that, these crowds are even more enthusiastic than the crowds I'd been having. And they're young adults, of course. You might (see) a little sprinkling of gray hair (in the crowd), but not much.
They're very young, and they know all of my songs. We just hit the intro and they knew them, and they sing along with me and they jump up and down, and they stand for an hour-and-a-half and watch my show.
I'm given so very much respect, that's what's blowing everybody away that works with me on these things. They say, "We have never seen this before. Not in rock 'n' roll." And when I'm singing they're hollering and yelling and whooping and the minute the song's over and I'm about to speak, you can hear a pin drop. It really is pretty awesome. And it's like they want to hear what I've got to say. I'm telling them little stories about Elvis and about Jack, that they've only read about. They've never met anybody who has actually done these things and lived it.
So I just feel like that's the attraction. They're younger, younger than my kids. Even Jack could be my grandson. But I relate to them fine and they seem to love and respect me. I'm most grateful for that.
TM: Does that energy they extend influence how you perform?
WJ: Yeah, it does. Makes me want to do what I did when I was 18. But I can't quite do that anymore. [laughs]
They have put a spring in my step, and they have put a confidence in me that I never had before. With Jack's confidence in me and now the album being a success and then the fans treating me like this, you can't help but have more confidence in your work and what you're doing. And it began with the induction into the Rock And Roll Hall of Fame. That's when I began to notice, "Hey, I feel more confident in what I'm doing." I know now what I'm doing.
And it's a good feeling. At 73, you know, it's about time I had confidence. [laughs]
TM: Maybe it just took us this long to catch up to you.
Well, I think everyone's so young, they didn't know about me until now.
What really thrills me is that this age of young people have found our music — the beginnings of rock 'n' roll. They love rock 'n' roll and to find the beginnings of it and embrace it like they have, it just shows me there's still hope in the world. That's the way I really feel. They love the whole lifestyle, I think secretly or maybe even openly, they wish that they could have a slower paced, simpler life, like we had. We could be teenagers and just have fun, but they have so many other stresses in their lives these days, I wish they could have a simpler life. And I think they do, too.
But they've embraced the whole dress style and classic cars, it's so cute to see them. Guys with the greased-back hair and leather coats on and girls with gloves and little bows or hats or little Oxfords or whatever they choose to dress in. Of course, they have their tattoos and piercings now, which is totally different, but each — I don't' go for them personally — but each generation will always have their own look. They'll always have something.
TM: What can the crowd in Lawrence expect when you come to town?
WJ: There's about three bands across America, they're organized bands in their own right, but they're also working any dates that I have within a 500-radius. I have about four bands I work with and they're all top-notch, recording-quality musicians. I have a wonderful band called the High Dollars that will be with me in Lawrence. We try to have the horn sections, but that's not always possible. If it's prearranged, we'll have horns, but I can't promise that. You won't miss them if we don't. The band is excellent.
What kind of venue is this?
TM: It used to be a movie theater, and it still looks that way on the outside.
WJ: Good.
TM: On the inside, it's a standing venue with a split-level.
WJ: That's what most of them are these days. They can expect to stand all evening. They can expect to hear all of my classic rock songs from the '50s. I also do a whole section from the new album, which is the highlight of the show. Other than that, they can expect to have a lot of fun. If they come wanting to have good time, they'll leave pretty happy.
TM: Let's talk about "The Party Ain't Over" for a minute. There are a lot of different styles on this album that you're drawing from -- you even end the album with a yodel. What were some of the genres that you got to play with on this album that you really enjoyed?
WJ: One was the late '40s. I'd love to do an album of songs from the '40s. The song I'm referring to was "Rum and Coca Cola." That was the Andrews Sisters. I remember that song, and I love the Andrews Sisters. That one and "Teach Me Tonight" from the early '50s. We danced to that at our school dances. That was a song I had always wanted to record, and Jack let me. He really like that song, too.
Bob Dylan. I never thought I'd do one of his, so that was different, and Amy Winehouse. Of course, that was different. Jack wanted me to do it my style and it was hard for me until I realized what he was wanting. I kept trying to do it more like how she had done it and he said, "No. I want Wanda Jackson."
I said, "Yeah, you're wanting that 18-year-old that used to be living in me." [laughs]
But I finally managed to get it done to what was his liking, but that was quite different. Then of course, he made me very comfortable with songs like "Rip It Up" and "Busted." Some of those, even "Nervous Breakdown" and "Shakin' All Over" were my type of song, but I was not familiar with them. For some reason I had missed hearing those.
TM: Let's talk about working with Jack White. You've had the opportunity to work with some real greats over the course of your career — Roy Clark, Buck Owens and, of course, Elvis — how does working with Jack compare to those experiences?
WJ: He's in my estimation right up there with Elvis. He's that exciting of a character. Sweet character and interesting to be around and that's the way Elvis was — you liked to just be in his presence to see what he was going to do, what was he going to say. I find Jack is the same way. I like to be around him, take him in and watch him.
And I love seeing him with his kids. That is one of the sweetest things. The love he has for his kids and vice versa and his wife, of course. I love to see a guy who has everything in balance like he seems to have. He's got his careers and all these bands going and is successful in seemingly everything that he touches. His recording studio, I found out he has a lot of talents. Upholstery. He does beautiful upholstery work and I don't know what else. I haven't known him that long, but he showed me some of his upholstery in the studio, he's done it all. So talented and so creative, it's just wonderful to around people like that. Everyone loves to be in their presence, and I'm no different.
TM: It's probably not fair to ask considering you're still touring for this album, but do you have any plans to make another album with him?
WJ: Well, I'm hoping to, naturally. But I feel like I should leave that up to Jack. He's the business man, it's his company, he's the one who came to me in the first place, so I'm not going to be calling him and bugging him and asking him. I think I've let him now that I certainly would love to do another album with him and so now that ball's in his field. We'll just have to see. I know I don't want to work with anyone else.