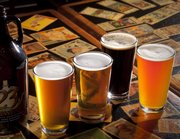 American Craft Beer Week Lawrence Events
Sunday
Free State — Eastside Brewery Open House, 1923 Moodie Road, 1 – 3 p.m.
Monday
Free State — Discounted beers at downtown restaurant, 636 Mass.
Tuesday
23rd Street Brewery, 3512 Clinton Parkway, — Brewery Tours 11 a.m. to 1 p.m.; 4 p.m. to 6 p.m.
Wednesday
Free State — Beer and Cheese pairing with Chef Rick Martin and staff of The Merc at WheatFields, 904 Vt.
23rd Street — Brewery Tours 11 a.m. to 1 p.m.; 4 p.m. to 6 p.m.
Thursday
Free State — Cask beer tasting and meet the brewers on the porch with Prairie Acre Band, 7:30 p.m.
23rd Street — Brewery Tours 11 a.m. to 1 p.m.; 4 p.m. to 6 p.m.
Friday
23rd Street — Brewery Tours 11 a.m. to 1 p.m.; 4 p.m. to 6 p.m.; tapping the first Firkin at 6 p.m.
Saturday
23rd Street — Brewery Tours 1 to 4 p.m.; Tapping the second Firkin at 5 p.m.
Summer weather is slowly but surely setting in, and two local breweries are celebrating the season with a week devoted to craft beers.
The folks at Free State Brewing Co., 636 Mass., and 23rd Street Brewery, 3512 Clinton Parkway are joining American Craft Beer Week, in its sixth year of celebration.
Free State Brewing Co. founder and proprietor Chuck Magerl says this is the first year Free State has participated in the national event.
"Last year we were in the midst of doing our first bottling run at our production site, and that had us fully occupied," he says.
Magerl says they want to repeat craft beer week annually. "Usually this time of year the weather's turned nice and it's a great time to have a beer."
Events at Free State include a Sunday open house at their Eastside Brewery,1923 Moodie Road, complete with beers, burgers, brats and music from the band Old Fangled. The brewing staff will be on-hand to answer ale, lager and barley wine queries as well.
On Monday, the downtown restaurant location will offer discounted beers. On Wednesday, the staff will have a beer-and-cheese pairing event at WheatFields Bakery, 904 Vt., starting at 8 p.m. Chef Rick Martin and staff from The Merc, 901 S. Iowa, will choose from specialty cheeses and Free State brews. Tickets for the event will be made available for purchase through Free State's website.
Free State also will have a Brewer for a Day contest. Those interested are encouraged to send in their best prose with specific words included by May 31 to the Free State staff.
"It's one of those ideas that emerged from a group meeting," Magerl says. "People have taken different approaches to it. Some are taking it as a narrative or fantasy, others are doing haiku. It's pretty fun."
The winner will work as a brewer for a day at the downtown location.
"They will know what it's like to have people staring at them through the glass. They'll be learning the process as well as getting in on some of the physical labor of the job, and experiencing exactly what it is that keeps the guys going back there," he says.
Other prizes include a free lunch, a Free State sign, an authentic pair of brewer's boots with signatures from the brewing staff and an official photograph in case the beer tasting has left the winner with a hazy memory or in need of a souvenir for any reason.
The staff at 23rd Street Brewery is also celebrating with brewery tours from Tuesday through Saturday from 11 am. to 1 p.m. and 4 p.m. to 6 p.m. by head brewer Bryan "Bucky" Buckingham.
Matt Llewellyn of 23rd Street Brewery purchased the company in April 2005 when it was still called 75th Street Brewery and changed the name in December of 2006.
"I am usually in the brewery at some point every day of the week doing whatever I can to help out the staff and the guests," he says.
His work, he says, is more than just producing well-brewed beers.
"I set the mission and the vision for the brewery as well as hire the best people I can to help me achieve the goals that I have set forth."
During the week, 23rd Street Brewery will be featuring a 2008 Russian Imperial Stout, a Belgian Strong Gold, a Belgian Dark Strong and will be tapping this summer's California Common, which Llewellyn describes as a very popular beer that comes out every summer.
In addition to these brews, the staff will also be tapping two surprise firkins on Friday and Saturday.
"We are very proud of them. This is a great time to do some special things with beers," Llewellyn says.
For more information about the Freestate Brewer for a Day contest or to purchase tickets for the wine and cheese-pairing event, visit www.freestatebrewing.com. To read more about the national craft beer week, visit www.craftbeer.com.