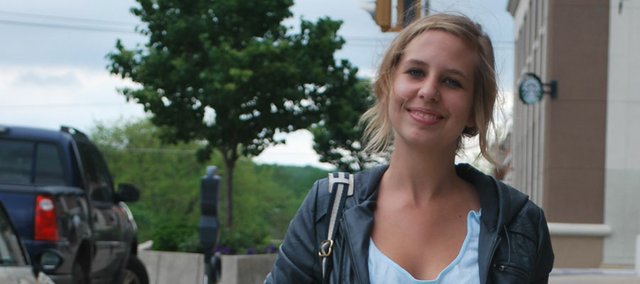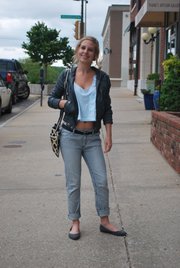 Name: Jordie Broadhead
Age: 21
Sign: Aries
Relationship Status: I'm dating Tom Linder (fellow Style Scout subject).
Hometown: Topeka
Time in Lawrence: 2 1/2 years
Occupation: Host at On the Border
What were you doing when scouted? Window shopping downtown.  
How would you describe your style? I usually dress really laid back, lots of cool T-shirts, crop tops and nice, breezy skirts — but occasionally I will dress nice and bust out a pair of high-waisted slacks or trouser shorts.
What are your current favorite fashion trends? Flannel is nice in the wintertime. Boots and body suits for summer.
What are your least favorite fashion trends? I don't really care for Old Navy flip flops, cargo shorts or pants, and Sperry shoes — especially paired with athletic shorts.
What would you like to see more of in Lawrence? I would love to have a grocery store closer to downtown ... something I could walk to, other than Jayhawk Food Mart.
What would you like to see less of in Lawrence? The unavoidable pot holes!
Do you have any piercings or tattoos? My ears are double-pierced and my nose is pierced.
Do you have any fashion influences? Yes … but no one in particular.  I really enjoy getting ideas from pictures of random people on fashion blogs.
People say I look like: Lady Gaga (Why?! I have no idea!).
Tell us a secret: I've been a vegetarian for six years, still goin' on strong.
More like this story on Lawrence.com