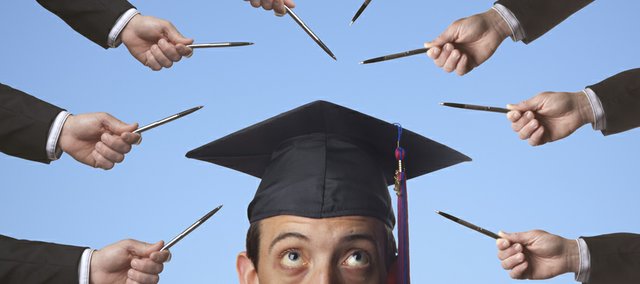 Taylor Bettles just completed her freshman year at Kansas University, yet she's already ahead of some 2011 graduates.
Since the very first days on campus, Bettles has been popping into Student Money Management Services. An office on campus that opened in August, it's set up to help students navigate the waters of finances through the help of peer counselors.
"We set up budgets and we talked about my financial aid, my loans and how to handle that in the future," says Bettles, of Wichita. "Just working with them now, I've already learned so much. So when I'm not going to school here I'll already know how to make my own budgets. And so that way, as an adult out in the world, I'll still be able to think back and be like, 'Oh no, I know how to handle this situation.' If I'm ever in a scary money situation, I'll know what to do."
How to handle adult financial situations can be a major roadblock for new graduates. Also an issue? Jobs — both the search and the maze of benefits once you have one, and the ability to stay in your chosen field if you can't get hired right away. And for those with and without jobs, another issue impossible to escape is insurance — car, health, dental, life, rental — all of it.
Going from the protective bubble of the college world into the real world definitely requires some adjustment. But we've got some basic guidance for 2011 graduates who are looking at their lives and wondering what comes next.
Finances
Budgeting 101. By graduation time, most students should have a handle on a budget, thanks to four years or more living away from home. But that budget won't mean a thing once you have your first post-college professional job. Your budget will change, your demands will change, and new bills will crop up (see insurance, below). Leticia Gradington, who runs the Student Money Management program, says to start with your budget and move from there.
"Understanding what comes in, what comes out, pay your bills first and then spend," Gradington says. "Whether you have big money, little money or most people think that they don't have any money — you do. And you should manage it."
Student loan repayment. Once a student leaves college, it becomes his or her responsibility to deal with whomever holds any loans used to pay for school. Getting a jump on paying off those loans while you're in school is the best option, but for graduates, attacking debt should be a top financial goal, Gradington says.
"Student loans are residual. They're made to bounce back when the economy's not good," Gradington says.
Credit cards and credit history. Have a credit card balance? That's something else to pay off quickly by working it into your budget, says Gradington. And for those with or without credit card debt, a credit history check is essential to make sure you're starting your life as a working professional off to the right start. Then, you should pull your credit report every year to keep on top of your big financial picture and make sure there aren't mistakes or ill-reported items on your record.
Employment
Got a job? Don't let your eyes glaze over when it comes to your benefits. Know what you're paying for and how to use it, says Ann Hartley, associate director of the University Career Center at KU. You need to understand how your paid time off works, what kind of health and dental insurance plans you have to choose from and learn the ins-and-outs of flexible benefit plans. Also, know how to really use your benefits to your advantage, rather than letting them go to waste.
"Sometimes, as an entry-level, new graduate, you don't have a lot of negotiating power on your salary because you don't have a lot of experience, but you can negotiate some of the other benefits — even different vacation time or educational benefits," Hartley says. "You might go work for a company that will pay for your master's degree."
Still searching? Keep at least one foot in your chosen field. Hartley says you might be able to find an unpaid internship you can work into a schedule with what you're doing to pay your bills. Freelancing is another option — though that option isn't available to every field.
Occasionally, Hartley will do programs where she brings back successful graduates to speak about how they got into their careers, and many will mention working for little or no pay just to stay involved.
"They'll talk about how I had to pay my dues and do this unpaid experience to make the connections and get it on my résumé. And some of them did it while they worked a second job," Hartley says. "Sometimes you have to do a paid job to pay the bills and pay the rent, but then do an unpaid experience that you're doing to just get your foot in the door."
Insurance
Car insurance. Your policy might change if you were covered on your parents' policy as a student, or if you are moving to another place after graduation, says Emily Peterson, a licensed agent with the Ron King Agency, 3010 Four Wheel Drive.
"Certain places are more expensive. I know a lot of people in Lawrence in particular, if they move to, say, Kansas City, a lot of interest rates go up because it's done by territory and crime is higher and all of that," Peterson says. "Kansas City, Missouri, in particular, if you move there, your rate can go up by a third."
Renters' insurance. Peterson says that as a student, your possessions — i.e. everything in your apartment — was probably covered by your parents' insurance policy.
"While students are away at school, coverage does extend from their parents' homeowner's policy to them and their property," Peterson says. "When they're no longer students, that coverage ceases to extend and so, they would be responsible for covering their personal property, and so renters' insurance is something they'd have to look into."
Now that you're no longer a student, you're probably off that policy, unless you're boomeranging back home. If you're not, consider getting renters' insurance, says Peterson. She says that though it's not common in Lawrence, some apartment complexes even require it these days.
Life insurance. If you have a job and are offered life insurance as a benefit, there are a few factors to consider. Is it just you? Do you have a mortgage? Do you have kids? Peterson says that getting life insurance either through your new company or through a separate entity is important if you have kids, a spouse who doesn't work, or a large asset that will need to be paid for, like a home with a mortgage. She says that another thing to consider if you're moving toward the house and kids is that you're going to be cheapest to insure as a young person.
"You are cheaper than you are ever going to be for life insurance — the younger you are, the better rates you can get," Peterson says. "It's kind of a prime time to be shopping for life insurance, especially if you're looking for a 10-year term, 20-year term, 30-year term. You can get a much better rate at that age and if you put it off, you're only getting older, you're only getting more expensive, and that's a struggle."