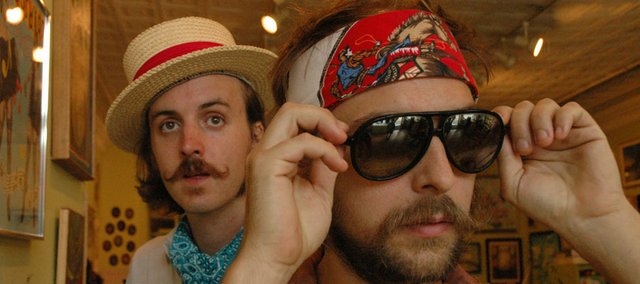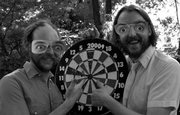 Spring into Summer Schedule:
Replay Patio
The Hips (6-6:45 p.m.)
Colony Collapse (7-7:45 p.m.)
Hospital Ships (8 - 8:45 p.m.)
Danny Pound Band (9-9:45 p.m.)
Fourth Of July (10-10:45 p.m.)



Replay Inside
The Copperheads (9:45-10:15 p.m.)
Up The Academy (10:30-11 p.m.)
Mouthbreathers (11:15-11:45p.m.)
Spook Lights (MIdnight-12:45 a.m.)
Swanson (feat. Approach, Jabberjosh, and G-Train) (1



Jackpot Music Hall
Drakkar Sauna (8:45 - 9:15 p.m.)
The Dactyls (9:30 - 10 p.m.)
MANSION (10:15 - 10:45 p.m.)
Major Games (11 - 11:45 p.m.)
Old Canes (Midnight - 12:45 a.m.)
We Are A Scientist (Guided By Voices Tribute) (1 - 1:40 a.m.)
If you can't tell by all of the recent cool, wet weather outside, spring has sprung, and that means a sweltering Kansas summer is right around the corner.
On Saturday night, the Replay Lounge, 946 Mass., and the Jackpot Music Hall, 943 Mass., will commemorate this changing of the seasons by hosting the fifth annual Spring into Summer Festival, a one-day local music extravaganza sponsored by Boulevard Brewing Company and co-sponsored by KJHK 90.7.
It all begins at 6 p.m. on the outdoor patio at the Replay with the band The Hips. A second stage then opens at 8:45 p.m. across the street at the Jackpot, with Drakkar Sauna. Shortly after, inside the Replay, a third stage comes alive at 9:45 p.m. with The Copperheads. All told, there will be 15 bands performing throughout the evening for a total cover of $5.
Brad Shanks, manager and promoter for the Jackpot Music Hall, says there will be something for every type of music fan at this event.
"I would say it's a crash course of local music. It's a bunch of really good local music. It's a shame we couldn't get every good local band, but we had to cut it off. There will be punk bands, metal bands – it's basically a hodgepodge, let's say."
Shanks says the fact the bands are spread out onto three very different stages should entice people to move around between venues and try to catch a variety of shows.
"The best part is that you can go to two different locations," he says, "and it's $5 for both spots. A wristband will get you in. It's a really good way to spend a day with your friends because there's a patio, then you can come inside the Replay or you can go to the Jackpot. If you don't like a certain kind of band, then there's two other options. It's a great deal."
Shanks hopes the Spring into Summer Festival generates some exposure for the bands and says he wants a unique experience for Lawrence music lovers.
"It's important for Lawrence because there's not something like this usually," he says. "It's a great showcasing of what Lawrence has music-wise, what these artists are doing. I think it's a good way to get people out here and interested in different types of music that they might not normally go see."
Jeff Stolz, a member of both Drakkar Sauna and The Hips, agrees with Shanks. He thinks the 15-band showcase will bring lots of people downtown, probably more so than usual due to the fact that the festival will coincide with graduation weekend for Kansas University.
"I think it's a great opportunity for the community to come out and see all of the good acts that Lawrence has to offer," Stolz says, "and it's a good thing for downtown. It brings people out of the woodwork, and certainly lots of people from out of town are here over the graduation weekend, too, so it offers some really good entertainment for the weekend."
Stolz describes his primary band Drakkar Sauna's folkish music as harmony-driven with aberrant lyrics.
"I think we emphasize dual vocal harmonies primarily," Stolz says, "and try to write some good melodies and just kind of beat on our guitars and let some primal, simple beats go along with it. Lyrically, we're all over the place. On our first album, we had three songs about bear attacks, and we had a little bit of a theme about that, but we've definitely been all over the place."
Brendan Hangauer, vocalist for Fourth of July, the final band of the night at the Replay patio stage, says he's looking forward to the festival. He also says the quality of performances on all of the three stages impresses him this year.
"I'm really excited," Hangauer says. "I think this year they've got a really good lineup. I'm excited because there's a bunch of bands I want to see play. The lineup's really strong – and only charging what they are to go to either venue should draw a lot of people out. "
Hangauer says his band's been working on recording a new album recently and this will be their first show in a while. He says he's ready to perform some new music this weekend. He describes his band's sound as having "no anti-melodies."
"We're working on a new album, and we'll be playing some new songs. We're excited to play some tracks that have never been heard before. The last show we played, the sound guy said he wants to come and see a band where pretty girls dance in the front the whole time. That's pretty much what we are."
Shanks says promoting the event has been well-worth the work he's put into it.
"I'm really looking forward to this. Every band on that bill I want to see. The way we set it up, we staggered it so that you could almost see every band on the list if you really wanted to. I'm going to try and see everybody. Yeah, I'm excited."