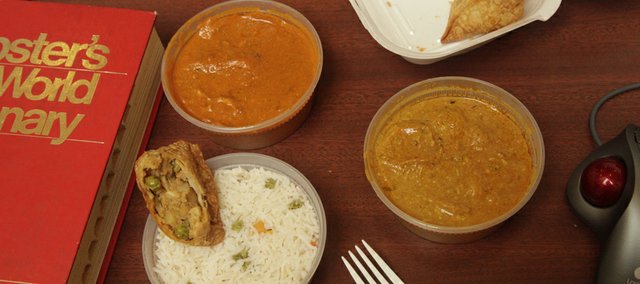 Place
1111 Massachusetts Street, Lawrence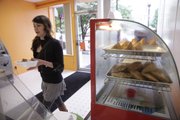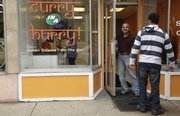 Mexican food has Taco Bell. American food has McDonald's. Italian food has Fazoli's.
Somewhere in the patchwork of American fast food there is a place for Indian food, or so believes Sammi Sangam.
Enter Curry in a Hurry, Sangam's uber-quick Indian food operation that opened late last month at 1111 Mass.
"As far as I know, there are probably hundreds of Indian restaurants in this country, but there's no Indian fast food, like Indian McDonald's, Indian Taco Bell," he says. "Americans are always busy — let them have Indian food in the way they want it — quick. In a minute to go."
And that's just as long as it takes to get Indian fare at his storefront across the street from the Douglas County Courthouse. Every day, there's a meat-based curry and a vegetable-based curry for sale — for example chicken tikka masala and vegetable korma — plus rice, and snacks including naan and samosas available pre-packaged and ready to go for customers. Pick up food and a fork, pay and go.
Diners can also grab a glass of mango juice or chai for something authentic to wash down the meal or pick up one of the stores many convenience store items such as soft drinks, chips and candy. In fact, the city has the store zoned as a convenience shop, not a restaurant, which should come at no surprise given Curry in a Hurry's origins.
Curry in a Hurry first opened as an aside at Sangam's Shell gas station at 1733 Mass. Sangam wanted to feed his customers, most of whom were college students often foraging for dinner among the station's prepared foods.
"The whole idea was born to help college students. At the gas station, 80 percent of our customers were KU students," he says. "And they were always looking for some kind of quick snack or quick food and the idea was born of why don't we provide this."
Eventually, Sangam struck up a relationship with the landlord of 1111 Mass., and, after a year's time, Curry in a Hurry was able to move into the spot vacated by Kwality Comics. The transition took four months as Sangam and his family shut down the Shell operation and prepared the new space. When the shop opened up its doors April 27th, Sangam says he was pleased to see customers from the Shell station who had waited out the transition, and he's seen many new faces too — which has already led to adjustments.
"A lot of neighborhood people are stopping by and we are having conversations with them, wanting to know exactly the stuff they want here," says Sangam who is catering some KU graduation parties with Curry in a Hurry's popular samosas. "And probably (we) will categorize and start offering those to them."
One of the first new customers was Amanda Davis, who hadn't tried the original location, but knew she had to give Curry in a Hurry a shot when she found herself craving Indian food.
"It was really fast and definitely didn't disappoint," says Davis, who blogs about food at jayhawkgirlskitchen.blogspot.com. "I think curry certainly jives with the idea of grab-and-go. The way that Sammi has things set up makes it very easy for someone to walk in, grab some dinner and walk out within about 2 minutes. Naan can even be it's own utensil if necessary."
Davis's husband, Josh, says he loved the food his wife brought home from Curry in a Hurry and also says that if reality TV is any indication, Sangam and his curry are way ahead of the game.
"I actually was pulling for Spice Coast, a quick Indian food concept restaurant, which was one of the three finalists on NBC's America's Next Great Restaurant," he says of a concept presented as "Indian Chipotle." "I think in urban areas as well as progressive college towns, quick Indian food would do really well. I am not much of a cook, so when Amanda is gone at work I tend to go for convenience/fast-type foods. I frequently mention the lack of quick ethnic options, and that is why I am so excited about Curry in a Hurry."