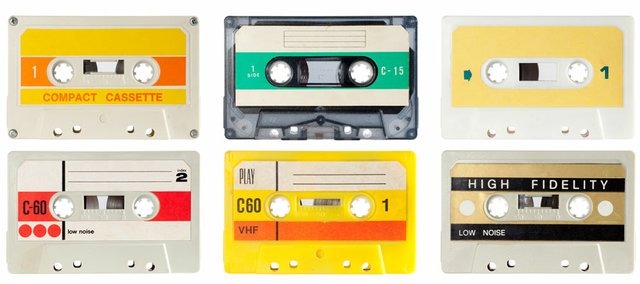 Tapes. That's right, tapes. As in cassettes, those things people used to buy in the '90s and that these days are more likely to be found in a landfill.
But Bobby Sauder, who co-founded the Whatever Forever Tapes music label with Rolf Peterson, fellow member of the band Karma Vision, says they're the way of the future in underground music.
Sauder and Peterson got the idea when they were on tour last year, on the West Coast, and they discovered that people there were doing things on a smaller scale. "It was all DIY," he says. "They had concert venues in people's houses, and alternative art spaces.
"The DIY places wound up being the most fun," he adds. "At a bar, people tend to be there to drink. At a DIY show it's usually kids who come to hear the music."
When they got back to Lawrence, they decided that was what they were going to do. They started Pizza Power, a DIY concert and event promotion collaborative. They've put on about 20 shows since August of last year.
In January of this year, they expanded the venture into music publishing. Since then, Whatever Forever Tapes has released "five or six" albums by local bands.
"The music on our label is similar not so much by genre as by the spirit or ethic of the artists," Sauder says. "They'd all rather be with a smaller, local label."
Their catalogue is quite diverse, ranging the "folk-oriented acoustic guitarm piano, pedal steel guitar sound" of Blakey Bear to the experimental noise of Agent X-12, a self-proclaimed "cyborg" who creates his own instruments, such as the "Meowtar" and the "Squibbletar."
"At a show at our house, he released these little roach-bots," Sauder says. "They vibrated and kind of walked across the ground."
The label has been doing well so far, with copies selling at Love Garden, 822 Mass., and with requests for copies coming in from points beyond Kansas, including an independent record store in Japan that wants to sell them, but they waited until this week to officially launch the label because they "wanted to have a big event for our launch," he says. "We wanted to have our name out there."
Pizza Power will host the party will be at the Taproom, not a house, in the DIY tradition, because local police recently came down on them for noise violations.
"It wound up costing about $800, which kind of put a damper on things," says Sauder, who holds a day job at Wakarusa Family Organic Farm.. "We don't mind getting in trouble. We just don't have that kind of money."
The event will still feel DIY, though, Sauder says. They're going to deck out the Taproom with streamers, balloons and experimental films projected on the walls. "Something that'll help people get into the vibe for the night," he explains.
The Internet has really made it possible for small ventures like this to find their place, according to Sauder. "People aren't necessarily listening to the radio anymore," he explains. "They're searching for stuff on music blogs."
The main way they've gotten the word out, though, is through good old word of mouth. People show up for the Pizza Power events and they're interested and they learn about the music. They also give out stickers and buttons.
Still, this isn't a get-rich-quick business. Each of the label's releases is limited to 100 copies. "It adds to the value of the tape," he says, "because it's kind of rare to begin with."
For those who might have doubts about the inherent value of tapes, Sauder says it's all a matter of perspective.
"It's just my opinion, but CDs have lost their value," he says. "Somebody once said to me that digital music is like fluorescent light, which represents real light but it's not the same. Digital music represents real music, but it's not."