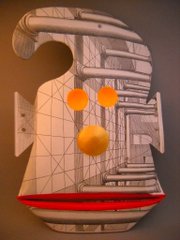 Place
825 Mass., Lawrence
David Van Hee began making his mask art more than 30 years ago. And he's still going strong. Van Hee says he makes about 400 masks a year, selling them online and in stores and galleries around the country. But now he's narrowing down his stock to a select 30 to 40 masks that he'll be showing at The Phoenix Gallery, 825 Mass., in the exhibit "The Masks of David Van Hee."
These masks aren't your typical masquerade apparel. Van Hee describes them as more like decorative sculptures. He cuts the masks out from recycled aluminum lithography plates that he salvaged from a large printing press — he says his masks range in shape to depict everything from a variety of animals to an archetypal surfer image. Van Hee then uses acrylic paint and collage art to decorate the masks.
Van Hee says his masks sold well from the outset, despite being "really primitive" in the beginning. He's since improved upon his designs, though, and has been experimenting with different ways to make the masks more interesting. Lately, he's been using found objects as stencils to paint designs and patterns onto the masks.
"I'm always trying new stuff to do to the metal," Van Hee says.