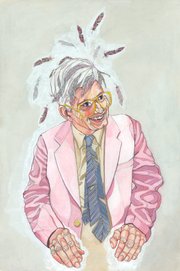 Kansas City artist Jodi Brown has long been a critical observer of popular culture. Throughout her career, her work has served as a means for her to highlight the ridiculousness present in everyday life that people often overlook. And her newest group of artworks, given the title "No Jacket Required," is no exception.
In the seven pieces that make up "No Jacket Required," on display at The Invisible Hand Gallery, 801 1/2 Mass., Brown turns her eye to the author biography photos often found on book jackets. Brown says she that when working on the pieces, she first tried to understand how the authors were trying to present themselves in the photos. She then used pencil and gouache (a type of paint) to create images that take those intentions to an absurd level.
"It's taking imagery from pop culture that people get used to because they see it all the time and portraying them in a way that makes people stop and think about them," Brown says.
This process has resulted in some genuinely creepy images. In "The Lost Disciple," the artist portrays an elderly man in a gaudy pink jacket and golden eyeglasses with feathers in his hair, making up his necktie and floating around his head. The image seems to contrast an authors desire to be associated with the natural world with a style of dress that leaves him coming off showy and fake.
This will be Brown's final showing in the area before moving to Seattle.