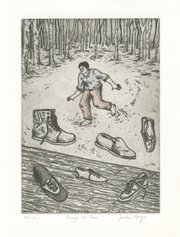 Place
822 Massachusetts, Lawrence
The walls of Love Garden Sounds will turn pensive on Friday when Jonathan D. Metzger brings his introspective "Recent Works on Paper" to the record shop.
The exhibition will showcase 10 to 12 pieces, including intaglio prints, graphite drawings, watercolor paintings and works that combine these techniques. Metzger says the pieces have a pretty cohesive feel, revolving around the ideas of boyhood, growing into adulthood, and masculinity. In his artist statement for the exhibition, Metzger explains:
"Growing up in a conservative farming community within a family of boys, I have come to question my American, specifically male, experience. In creating delicate works on paper, I strive to explore male identities and the transition from boyhood to manhood."
Primarily a printmaker specializing in intaglio prints (a process that involves etching designs onto a printing plate, applying ink and then running it through a printing press with paper), Metzger says he began dabbling in other media when he moved to Lawrence and this exhibition reflects that. A first-year graduate student from southeastern Minnesota, Metzger created all of the work for the exhibition this past semester at Kansas University. This will be his first time showing his artwork outside of the KU campus.
"I've been working hard this year," Metzger says. "It feels good to have a body of work that I feel good about."