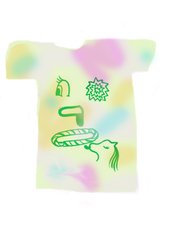 Place
803 1/2 Massachusetts St., Lawrence
The folks at Wonder Fair, 803 1/2 Mass., are keeping our summer-apparel needs in mind with their newest event, giving Final Friday-goers a chance to express their creativity and add to their wardrobes at the same time.
In this interactive printing event, Face Space Tees, guests will be able to choose from a menu of 16 facial features designed by the Wonder Fair Family, selecting as many or as few as they wish to form a unique portrait. The gallery operators will then run the shirts through a press to create the final product. Gallery visitors can either bring their own shirts, or purchase one from Wonder Fair's collection of T-shirts that the gallery employees tie-dyed by hand.
This one-night-only event will take place in the gallery's front room, while Pyramid Lake, an exhibition of works by Ray Sohn that opened during the April Final Fridays event, will be occupying the back room. Pyramid Lake includes pieces that combine elements of free-hand ink drawing, collage and painting. The opening event coincided with the release of a book from Sohn of the same title.
Wonder Fair co-director Eric Dobbins says the gallery has recently begun running two-month long exhibitions, allowing the Wonder Fair operators a chance to put on their own events during the Final Fridays events between openings.