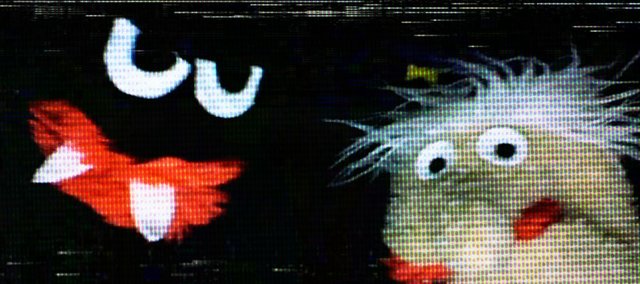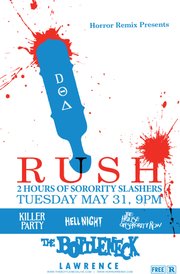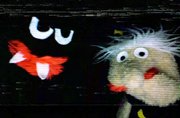 Adam Jeffers is convinced that what Lawrence needs — whether the town knows it or not — are regular, free screenings of cheesy '80s horror flicks remixed and edited down to their basest essentials and shown in a bar.
"There's absolutely a fanbase for this kind of thing and I'm sure that a good part of it exists in Lawrence," Jeffers says. "I was a fan to begin with, that's why I wanted to bring it here and share it with my hometown."
These methodically edited two-hour programs get rid of all the expository dialogue and slow-paced meanderings of bad B-grade horror movies and focus on all the good stuff — the scares, the gore, the nudity and the unintentional comedy.
The series, coming to The Bottleneck, 737 N.H., May 31, is called Horror Remix, and is the brainchild of Dallas artist/editor E.J. Anttila, who has recently expanded its regular showings to 10 cities in four different states.
The motto of the series is "All Killer, No Filler," and Jeffers — who stumbled upon Horror Remix last year — contacted Anttila himself and brought it to Lawrence with the help of local promoter Eleven Productions, who also understood its inherent cultural importance. The next four months are already scheduled at The Bottleneck.
"In the decade I've lived here, I've found a lot of people in Lawrence who appreciate not only weird, obscure movies, but film in general, and the community aspect of getting together with people you like and watching films that you love," says Jeffers. "The midnight movie screenings at Liberty Hall and the films projected onto the downtown parking garage are usually well attended, so I'm hoping that Horror Remix can attract a healthy audience as well. I know that this is a bit more specialized, but I think that makes it more special."
Special indeed. Horror Remix is MC'ed by two puppets named Thunderclap and Cheesecake—one is a wizard and the other a bat. After each film, these oddballs come on the screen, do a funny epilogue and introduce the next movie. Each "show" has a different theme that ties it together. Tuesday's show is called "Rush," and presents three sorority slasher films ("The House On Sorority Row," "Killer Party" and "Hell Night") along with extra bonus footage from other genre standouts, all in just two hours.
"The show works just like a horror anthology like 'Trilogy of Terror,' 'Creepshow,' or 'Dead of Night': Three short films set to a theme," says Anttila. "The only difference is my source material was not originally intended to be short. Luckily, the films I use lack the substance to legitimize a 90-minute runtime so you really can't tell the films are edited."
If it sounds like viewing bad movies in a group setting for fun is the ultimate in ironic detachment, don't think for a moment that Horror Remix is some kind of audience-participation viewing experience like "Rocky Horror Picture Show."
The cuts are strategic, designed for audiences to legitimately enjoy themselves rather than bark comments at the screen to make up for a lack of entertainment value. So Jeffers would prefer you leave your props and jokes at home.
"All the ridiculous, laughable moments are highlighted to the point where audience commentary serves as a distraction to the presentation — and, truly, an insult to the intelligence of the audience.  The audience knows when to laugh. They don't need someone else's cue to tell them," he says.
"As much as I love 'Mystery Science Theater' and its offshoots, I think it's sort of cultivated this idea that B-movies and trash films can't be enjoyed without an ongoing stream of jokes at the expense of the film," Jeffers continues. "The MST3K guys are working from a script with time cues and they've rehearsed their material. You're not and you didn't, so we'd appreciate the courtesy if you kept it to yourself."
Anttila started remixing awful horror flicks almost by accident in 2007 when he was putting together clips from the slasher-in-a-mine-shaft picture "My Bloody Valentine" with the music of the UK-based band My Bloody Valentine. Midway through the process he abandoned the concept, later calling it a terrible idea.
What he discovered, however, is that slasher movies are easily adaptable as short films. After some very packed house parties, Anttila upped the ante and made a themed show for a Dallas bar one Halloween.  Success. By next Halloween, he was showing Horror Remix in Austin and piecing together clips for shows on a regular basis.
Anttila also gets a good idea of what's working and what isn't in a program by watching his remixes with a live audience. His goal is to make sure they have fun, laugh, and are shocked every now and then. If there's one thing he hopes filmgoers will take away from the Horror Remix experience it's this:
"[I want them] to appreciate visionary filmmaking, even when there's a lack of competence," says Anttila. "Making an entertaining movie is special, even when it's poorly executed."