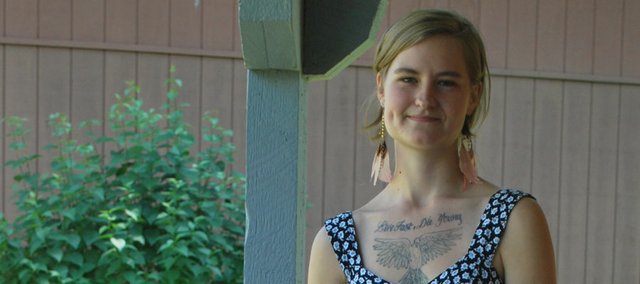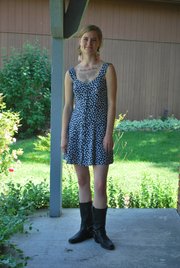 Name: Ginny Williams
Age: 22
Sign: Sagittarius
Relationship Status: In a relationship.
Hometown: Knoxville, Tenn.
Time in Lawrence: One year
Occupation: Cat nanny
What were you doing when scouted? Visiting friends at a graduation party.
How would you describe your style? There's really no method to the madness, I just buy what I like.
What are your current favorite fashion trends? Annie Hall-esque fashion — alligator shoes, sweaters and vests.
What are your least favorite fashion trends? I'm not too particular, but I'm not a big fan of cross-dressing — except for Eddy Izzard. 
What would you like to see more of in Lawrence? Cowboy boots and tent-dwellers.
What would you like to see less of in Lawrence? North Face jackets and Ugg Boots please! 
Do you have any piercings or tattoos? 13 tattoos, one temporary tattoo, and eight piercings.
Do you have any fashion influences? My older sister — she dressed me all through high school!
People say I look like: My dad.
Tell us a secret: I keep my mouth shut!
More like this story on Lawrence.com