Today's Parade to interrupt traffic downtown
•Registration for participation in the parade will run from 10:30 a.m. until noon, when the parade is scheduled to begin.
•The parade will start at the Lawrence Arts Center, 940 N.H., and will continue south to 11th Street. The parade caravan will then turn right onto Massachusetts Street and head north to Seventh before looping back around toward the Arts Center.
•An informal awards ceremony will follow the parade about 1:30 p.m.
•There will be a post-parade block party in the East 100 block of 10th Street until 5 p.m. The block party is open to all ages and will include live music, food and beverages.
Photo Gallery
Art Tougeau pre-parade party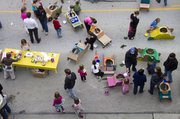 There was paint everywhere.
It was on the doors, the windows, the ground, the roof and everywhere in between.
And it was supposed to be.
Children and their parents spent a few hours downtown Friday night painting and decorating cars of the real and cardboard cutout varieties as part of the pre-parade festivities for the 2011 Art Tougeau Parade.
The activities in the 900 block of New Hampshire Street on Friday included car-related arts and crafts as well as a car-horn symphony and live music from local groups.
Sarah Geisler brought her two sons, Andrew, 9, and Elliott, 4, to participate in the good but maybe not-so-clean family fun. The two youngsters splattered and spread various paints on a Volkswagen before beginning their own cardboard masterpieces.
"They love the arts, absolutely," Geisler said. "It's summer. They've got to have something to do."
Everyone Friday had something to do. The joint effort of the Lawrence Arts Center, Art Tougeau and local businesses such as Free State Brewing Co. and Biemer's BBQ had everybody mingling. Michel Loomis, an area teacher and Arts Center board member, watched as children personalized their crafty cars.
"It just elevates your soul, that's what it does," Loomis said of the arts. "I don't know how people live without it."
The festivities are scheduled to continue this afternoon with the parade, BMX bikers, skateboarders and more live music. Children who created cardboard vehicles Friday have the option to participate in the parade festivities. The events are open to the public and free to attend.
And all the paint left behind from the evening's activities?
"It's water-based," Loomis said. "It'll all wash away."